6 Simply Beautiful Things to Do in Luang Prabang, Laos
Given its close proximity in Southeast Asia, it's surprising how little I knew about Laos before our trip. It's one of the few communist states left in the world. Subsistence agriculture is its main industry. And it is relatively untouched by tourism still, having opened up to the world only in the 1990s. But with tourism its fastest growing industry, this is gonna change soon.
Laos tourism slogan is Simply Beautiful, an apt description for its mountainous terrains, French colonial architecture and Buddhist temples. So, here's a list of 6 simply beautiful things to do in and around Luang Prabang.
1. Cruise on the Mekong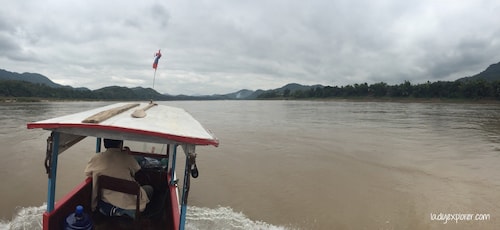 For the longest time before roads were paved in Laos, the Mekong river acted as the main highway of the only landlocked country in Southeast Asia. It's an important source of fish and provides irrigation to the agricultural landscapes of Laos. Hence, no visit to Laos would be complete without a boat ride on the Mekong.
As you travel further upstream from Luang Prabang, the rising rugged limestone mountains are quite a majestic sight.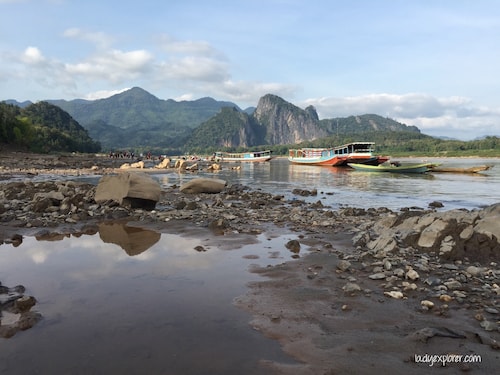 One of the easiest ways to enjoy the Mekong is to join a boat ride tour to the Pak Ou Caves. Daily boats depart around 8.30am near the 'Cross River Ferry' point on the Mekong stretch for 80,000 kip (USD10) per pax. Any later in the day will cost you more as it costs about 300,000 kip (USD36) for the whole boat.
The best thing about going out later though, is that you get to enjoy sailing into the sunset down the Mekong.

Or take your time with breakfast by the river before setting off.
2. Pak Ou Caves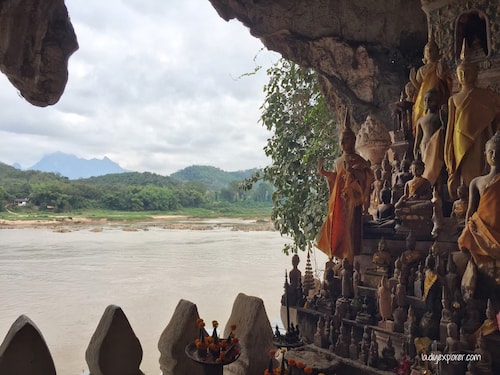 The Pak Ou caves on their own are not out-of-this-world, but as mentioned earlier, makes a great excuse for a boat ride out and definitely worth a visit when you're already there. Entrance fee is 20,000 kip (USD2.50).
Here you can make a prayer, get your fortunes told or just marvel at the thousands of Buddha statues stacked inside natural limestone caves, overlooking the Mekong.
3. Visit Laotian Villages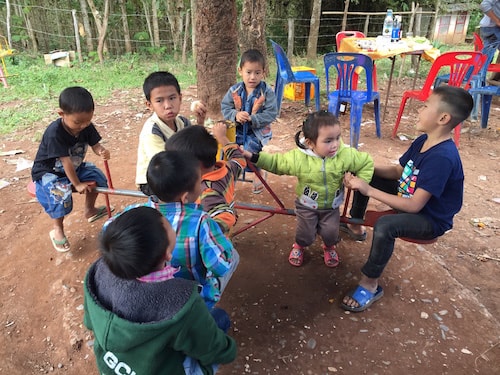 There are plenty of Laotian villages along the Mekong river. Most boatmen are familiar with – and more than happy to stop by – Whisky Village (Ban Xang Hai) on the way back to Luang Prabang. No points for guessing what it's famous for.
Learn about the distillation process of local sticky rice wine as you walk through pots of fermented rice. The villagers here freely give out tasting portions of their potent liquor and a 300ml bottle costs about 10,000kip (USD1.50).
Other than Whisky Village, you may even chance upon a wedding – like we did, when our boatman's village happened to be holding a wedding party and he extended the invite to us.
4. Kuangsi Falls (and a secret grotto) 
Kuangsi Falls is a very accessible paradise that is only 30km from the city centre of Luang Prabang. Share a tuktuk from town or rent a bicycle/motorbike. Roads are paved and directions straightforward (but beware of sharp turns and oncoming trucks along the way, or risk a trip to the hospital in Laos).
Why are the waters so blue?! It's au naturale – from centuries of cascading over limestone rocks have resulted in very high deposits of white calcium carbonate in the water, particles which are great at reflecting light, hence producing the milky turquoise-blue colour you see here.
You can also hike to the top of the falls for a not-too-bad view of the surroundings. For the adventurous, hike another 3km from the top to find yourself exploring an isolated cave by a beautiful spring (I definitely prefer this one to Pak Ou), where you can also swing, swim or savour some food & drinks sold by a lady at her humble store. More about hidden gem here.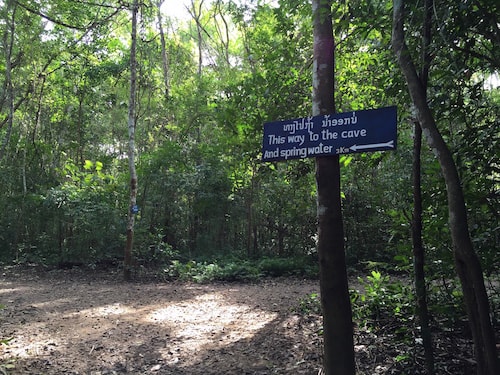 5. Mount Phousi

More like a hill with paved steps (335 steps, to be exact), Mount Phousi is an easy climb to enjoy panoramic views of Luang Prabang and its surrounding mountains.
6. Temples, monks and almsgiving
Other than being surrounded by gorgeous limestone mountains, caves and waterfalls, the old town of Luang Prabang itself is a UNESCO World Heritage site. Explore its many temples – or wats – as you walk through its charming streets, a perfect harmony of traditional Lao architecture and European colonial-styled buildings.
Laos is also one of the last places in the world where its monks still retain the tradition of collecting food from the people everyday after sunrise. Even if you do not take part in the alms giving, it's still possible to catch different sides of the ceremony from afar.
From our personal experience, rows of tourists would wait on the main street, flashing simultaneously in their faces with huge cameras as the monks approached. Upon turning into a smaller road, however, there would be some locals kneeling on the ground – eyes closed, palms clasped against their foreheads with a basket of food placed in front of their knees (and no cameras in sight, thankfully). It's heartening to see that the true spirit of almsgiving still exists.
Crossing the border from Thailand to Laos? Read our journey from Chiang Rai to Luang Prabang here.
Comments
comments