How to get to Kuang Si Falls, Luang Prabang (and a secret cave)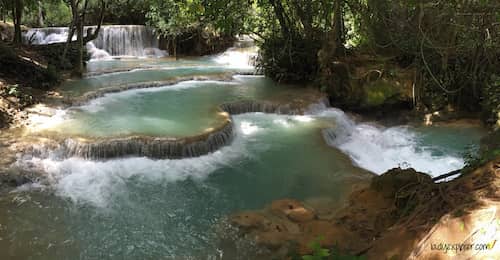 Kuangsi Falls is a stunning 3-tiered waterfalls that is super accessible from Luang Prabang (just 30km drive away). The turquoise-blue waters flow through three sections – you can swim in the middle section or climb right to the top.
There are plenty of options to get there. A round trip tuk-tuk or minivan that takes up to 6 people costs 150,000-200,000 kip. Tuk-tuks ply the city centre aplenty in the morning. Once you hop onto one, the driver will arrange for a timing to meet again at the waterfalls' entrance (about 3-4 hours later).
If you don't like the time constraint,  you can also rent a bicycle or motorbike from Luang Prabang and park right outside. Roads are paved and directions straightforward (but beware of sharp turns and oncoming trucks along the way, or risk a visit to the primitive medical facilities of Laos like I did).
The journey from Luang Prabang to Kuangsi is a beautiful one that takes you through a few towns and countrysides. On our way, we managed to catch a whole bunch of children riding their bicycles home after being dismissed from class.
Entrance fees to the Kuang Si Falls cost 20,000 kip. On the way to the falls, you will also pass by Tat Kuang Si Bear Rescue Centre by Free The Bears Fund and get to see Asiatic Black Bears rescued from illegal poachers (mostly for their assumed medicinal traits).
When we arrived at Kuang Si Falls, our first reaction was to wonder – why are the waters so turquoise-blue? The azure waters are naturally so because of its high deposits of white calcium carbonate. These particles from the surrounding limestone mountains are great at reflecting light, hence producing its distinct milky colour.
Instead of jumping straight into the waters, we decided to hike right to the top of the falls. There are two routes up – we chose the steeper way on the right.
And here comes the secret paradise no one seems to talk about…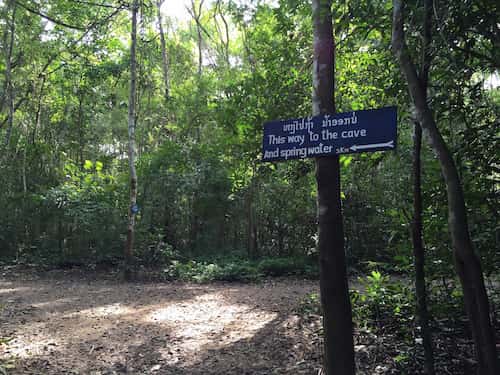 Ok, it's not thaat secretive. Just as we were about to descend the falls, we were tempted by the above sign "This way to the cave and spring water". It's 3km away which is a long walk (we missed out that small font – unfortunately, or fortunately) so make sure you have at least 2+ hours to spare before going ahead.
For us, the destination was worth the walk. We found ourselves in a completely empty, unlit cave with just us and our flash lights. It goes quite a long way in; so as you venture deeper, both its darkness and silence can be intimidating.
There is a man near the start of the cave who collects 10,000 kip per person, for entrance tickets and flash light rental (which is absolutely necessary).
Once you emerge from the cave's darkness, the nearby spring water is a beautiful, private place to relax and swim in. During our short stay, there was also a lady selling food and drinks (although we were her only customers).
Once you've had enough of this hidden paradise, you can either hike back the same way or – if it's late enough in the day – hitch a ride with the food vendor to the entrance of Kuang Si Falls.
Have fun exploring! For more Lao discoveries, here's 6 Simply Beautiful Things to do in Luang Prabang, Laos
Comments
comments