A trip to the hospital in Luang Prabang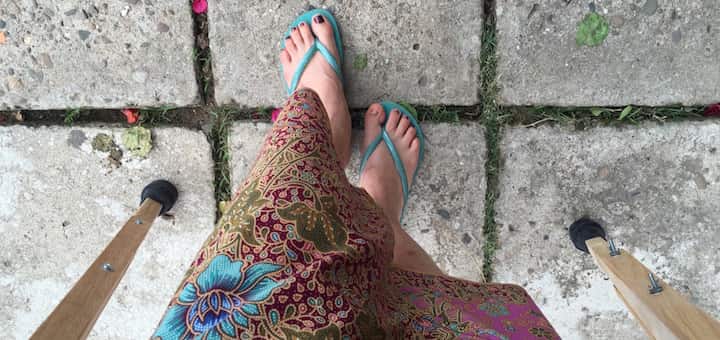 One of the worst things that can happen when you're in a country like Laos, is getting into an accident and needing professional medical attention. Thankfully for me, no major injuries were sustained. After all, a ruptured MCL and partially torn ACL are hardly considered life-threatening – although you could go on debating about the definition of living.
My immediate needs were to get my wounds cleaned up. Other than the bloody abrasions on my thigh, my left knee had felt a little wobbly. But no excruciating pain – yet. Later, I've come to realize that our body has an amazing way of numbing pain with shock; it is usually the next day when real pain sinks in. Hence, we settled for the nearest clinic in town that night. Probably one of my worst decisions of the trip given that the nearest hospital was not that much further (the Lao-China Friendship Hospital is just 5km from Luang Prabang city centre).
The first sight that greeted us at the TCM Clinic was a middle-aged Chinese man sleeping on a wooden recliner chair. Sylvie gave me a disconcerted glare before tapping on the doctor's shoulder. The TV nearby was still playing. He must have fallen asleep while watching it.
The awakened man sat me down on a wooden bench and disappeared into the back room, before reappearing with a grey, plastic bin and a bottle of medication. 你会说中文吗?- he asked if we could speak Mandarin. Turns out he was a Chinese national who was hired here to work in Luang Prabang.
With my legs straightened and foot on his thigh, the Chinese doctor placed the grey bin below my knee. Then, he generously poured the stinging medication over my open wound as they trickled into the bin. When I looked into the bin, there was some used cotton pads inside still – remnants from the previous unfortunate patient. Both Sylvie and our driver cringed and looked away as I yelled in pain.
When the open wound was taken care of, he moved on to my "dislocated knee". The man placed his foot on my groin and gave a forceful tug on my left leg. To his credit, it did feel back in place. We asked if there was any way to immobilize my knee. Once again, he went behind and reemerged with a flimsy piece of cardboard, which he strapped onto my knee with bandage.
"Guess we'll just rest in Luang Prabang one more night. I should be up and about in no time for X'mas in Vang Vieng!" I told Sylvie cheerfully.
—
Like I mentioned, the day after is always the most painful. When I woke up in the morning with unbearable discomfort in my knee, we decided to hop on a tuk tuk to the Lao-China Friendship Hospital – a ride that took less than 15min. Prior to our trip, I had read many unpromising things about this hospital, but after last night's ordeal, it didn't take much to beat our expectations.
I was brought to the emergency ward where at least 5 doctors and nurses attended to me at one go. My – still open – wound was cleaned up and rather professionally dressed in a bandage, something I was thankful about at that point but regretfully changed my mind when I had to tear it out forcefully later. I remember pleading for a non-stick bandage back in Changi General Hospital, Singapore only to be met with a dismissive reply: "Yes, of course lah".
Back to Laos. Compared to back home, however, the administrative process was way faster. After Sylvie registered with my passport and paid the consultation fee of 120,000 kip (USD15), I was immediately wheeled to the X-ray room. Because most of the hospital is single-levelled, its compounds are quite spread out. On the way there, I chatted with my attending doctors – a nice lady from Bangkok who was stationed here and another friendly Japanese woman volunteering. I don't mean to be presumptuous but their backgrounds were somewhat comforting.
"No broken bones, no problem"
Good news from the X-ray was quickly shared. I was prescribed some painkillers and salonpas for about 300,000 kip (35USD). They didn't have any MRI machines onsite, so I would have to get back to Singapore as soon as possible for a scan. With that, I was wheeled to the orthopaedics building to purchase a pair of wooden crutches for 150,000 kip (USD18). I had been lucky with the crutches – we were told later that another patient needed them last year but the only way then was to bring in from Vietnam.
So, I guess my experience with the Lao-China Friendship Hospital turned out to be a mildly pleasant one. If you have any misfortune of requiring medical facilities in Luang Prabang, I'd say go straight to the hospital. Don't even think about the clinic. At least you pay decent prices to get most basic things out of the way, i.e. no broken bones, medication, dressed wounds (with bandages that stick but oh well), crutches etc. Enough for you to make a trip back home – or the nearest big hospital in Bangkok – to check whether you've torn any ligaments and what not.
Good luck!
P.S. My MRI scan results back home revealed a ruptured MCL and partial ACL / meniscus tear, but I'm gonna take heart that a full recovery is just a matter of time and in my own control. Because Why Should a Torn ACL Stop Your Adventures?
Up and about in Luang Prabang? Here're 6 Simply Beautiful Things to Do in Luang Prabang.
Comments
comments