How to get to Angkor Wat: Phnom Penh to Siem Reap
We had to get from Phnom Penh to Siem Reap by bus on our third day and made the dire mistake of booking our tickets only the night before. Everyone had recommended either the Mekong Express or Giant Ibis, but both were full and we had to – very unfortunately – settle for PP Sorya.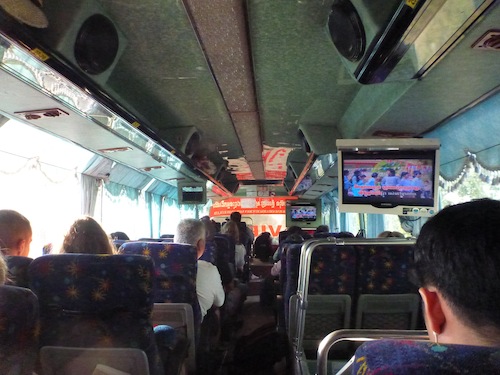 We were indeed in a sorry state after being on the Sorya bus for over 7hours. The hard seats and narrow leg space were somewhat expected of our USD7.50 bus fare – but to make things worse, the bus broke down several times during the journey and the Cambodian karaoke videos kept replaying, cackling violently each time the bus went over a bump (which was frequent).
If you can, I would strongly recommend booking the Giant Ibis sleeper bus from Siem Reap back to Phnom Penh though. We managed to book tickets on the Giant Ibis sleeper bus back at USD15 each, ensuring a comfortable journey back to Phnom Penh before catching our flight back to Singapore. Definitely all its money's worth for a good night's sleep.
Anyway, the bus to Siem Reap stops at Chong Kov Sou station, 4.2km east of Siem Reap centre. Tuktuks can be easily hired for about USD2 but we had already booked our accoms at Parklane Hotel and had arranged for a free pick up.
Tired and hungry from our long bus ride, we walked down to Raja Angkor (about 10min away) for a Khmer dinner, complete with live Cambodian music on a mallet instrument. We had a sumptuous dinner of grilled seafood, pork ribs, vegetables, fish amok (traditional khmer curry) and drinks for a total of USD38 for 4 pax – not too bad for the great meal and ambience to prep us for a long day at Angkor Wat the next day.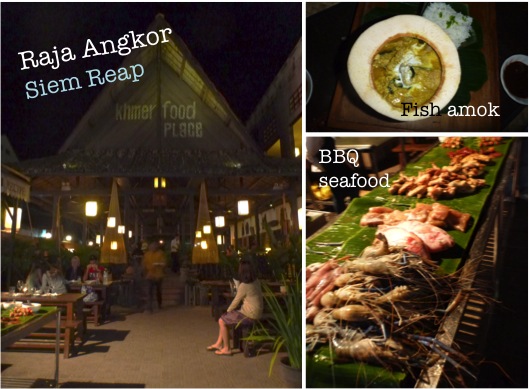 After the great dinner and ample rest, we were off to cycle to Angkor Wat next morning!
Comments
comments