7 Tips on Visiting Angkor Wat
Angkor Wat means 'Temple City' in Khmer (Angkor = City, Wat = Temple) and is the largest religious monument in the world. Other noteworthy mentions include being the national symbol that sits proudly on the Cambodian flag. It is also a finalist of the new 7 wonders of the world and a renowned UNESCO world heritage site.
The entire compound is a whooping 1.5 x 1.3km. It took us more than half a day to walk round the whole temple grounds, crashing sometimes to eavesdrop on a passing tour guide's story, and also stopping halfway for our picnic lunch.
So, here're a few tips for anyone planning to visit Angkor Wat.
Tip #1: Read up more on Angkor Wat before your trip, so you can truly appreciate the place while exploring this architectural wonder. There are no audio guides/local guides for hire when you get here.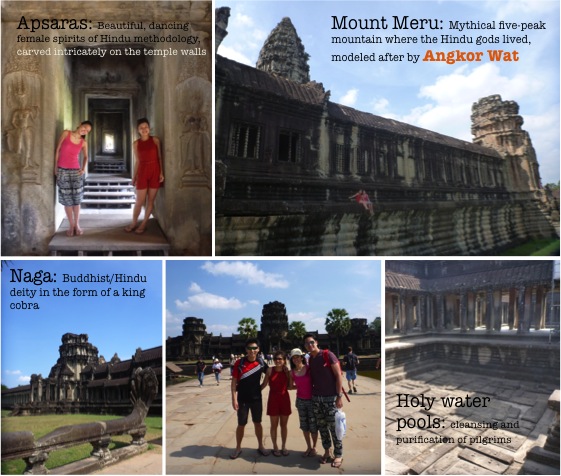 Angkor Wat was literally meant to be heaven on earth, built in the 12th century around 1113 AD and dedicated to the Hindu god Vishnu. The five temple towers were modelled after the five mountain peaks of Mount Meru, where the Hindu gods lived. The massive project took only about 35 years to build when engineers estimate it to be 300 years in today's terms – because even modern cathedrals considerably smaller than Angkor Wat requires at least 100-200 years.
How it really happened is a mystery. The likely theory is that tens of thousands of Khmer people used chisels to cut blocks of sandstone and laterite from the Kulen Hills, 30km north of Angkor Wat. The blocks were then transported using floating rafts of bamboos – with the help of elephants – through canal systems leading to the temple site.
Tip #2: Bring along lotsa water, some snacks and sunblock for a whole day of walking. Do wear comfy shoes too.
Tip #3: There are several options to get around. Plan your mode of transport accordingly.
We chose to cycle on our first day and only managed to cover Angkor Wat and the nearby Phnom Bakheng. It was a great experience exploring the temples on wheels though. On the second day, we decided our legs needed a rest. We rented a tuk-tuk to bring us in early for the sunrise and then to the further temples for one whole day.
Tip #4: Cover up! You may enter the temple compounds with a tank top and shorts, but they will not let you enter the temple building itself unless your shoulders and knees are fully covered. I bought a scarf but it wasn't enough 🙁 It has to be worn over, like a cardigan or t-shirt so bring along a jacket instead so you can layer when necessary.
Cambodian silk pants are readily available at USD3 for one (after bargaining).
Tip #5: There are two ponds to catch the beautiful reflections of Angkor Wat. The left 'Reflecting Pond' here is where the world-famous sunrise photos are taken, but the 'Angkor Wat Basin' on the right side as shown earlier with my picnic lunch is a beauty too and less crowded if you want a good view say during your picnic lunch.
Although we did join the throngs of people next morning to catch the famous sunrise…
Read about our sunrise experience here.
Tip #6: If you're the kind who loves it when the skies change colours (like me), there is another sunset spot at Phnom Bakheng just down the road from Angkor Wat where you can catch the sunset atop a hill.
Tip #7: It gets really dark after sunset so bring a torch (better still, wear a head torch to keep your hands free). There are no road lights within the archaeological park so we were cycling dangerously back to our hotel with our dim bicycle lamps (mine didn't even work).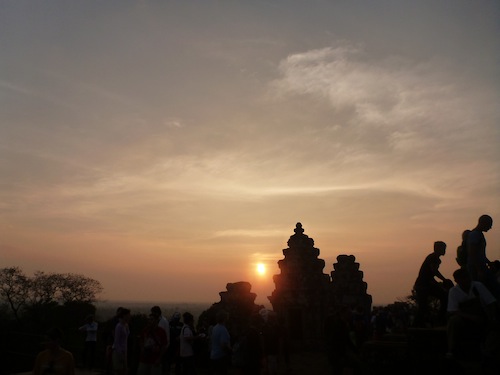 Planning for a trip to Angkor Wat? Here's how to get there from Phnom Penh.
Comments
comments