Chong Khneas floating village / Tonle Sap Lake
It was a last minute decision to visit the floating villages and I guess that was partly how we ended up going to the nearer tourist trap that is Chong Khneas, instead of the more recommended Kampong Phluk or Kampong Khleang. The tour was not the most enjoyable experience although there are always good moments and takeaways from a boat trip.
Day 6: Psar Chas (Old Market), Chong Khneas Floating Village and last night in Pub Street
Suffering from last two days' temple overdose, we decided to spend our last day in Siem Reap outside the Angkor Archaeological Park. Instead, we started our day at Psar Chas (Old Market), shopping around for souvenirs and had our lunch.
Unlike the other Night Markets in Siem Reap, Phsar Chas actually has some local patrons. There is a wet market area where locals sell fresh produce, dry market area for packed food like coffee and chips, as well as the more touristy sections where you will find traditional Cambodian handicrafts, textiles and other good souvenirs.
Of course, always bargain. The rule of thumb is to ask for half the quoted price and slowly make your way towards a good bargain over friendly banter. It's fun and the locals enjoy it too.
We had taken a tuktuk from our hotel to the Old Market (USD1) and our driver had been trying to convince us to visit the floating villages. Despite not promising anything, he insisted on waiting for us outside the Old Market and even after 2-3 hours of shopping, we saw him at the same spot with his tuktuk!
Since it was pretty early and we didn't have any other plans (enough of temples already), we decided to take a trip after lunch to Chong Khneas floating village at Tonle Sap Lake.
The tuktuk trip 15km southwards took about 20min (USD8 for return trip), where we took a boat through Siem Reap River out to the Chong Khneas floating villages.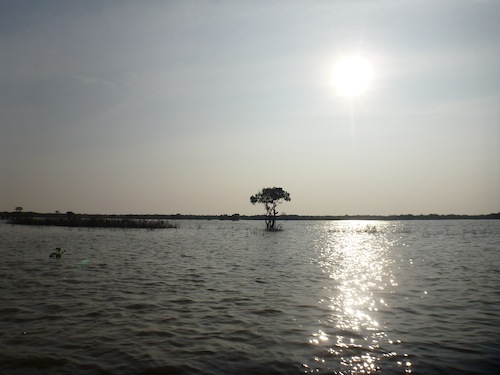 Like most boat rides, we had an good time sitting in the sun – wind in our face and legs dangling in the water. Our guide was super friendly at first, sharing with us his life background and explaining about Tonle Sap Lake.
Tonle Sap Lake stands for "Large Fresh Water River" in Khmer, living up to its name as the largest freshwater in Southeast Asia. The Tonle Sap Lake expands and shrinks drastically with the seasons with a difference of 6x in size. For most of the year, the lake is about 2,700 km square and one metre deep. During the heavy monsoon season, the Mekong River swells and pushes water into the lake, increasing its size to about 16,000 km square with a depth of nine meters.
Halfway through our journey, a teenage girl had rowed up to our boat to sell some drinks. Rejecting the offer, our guide supported our move and shared with us how we shouldn't encourage such alternative sources of income that will distract the village kids from going to school. Instead, we can help by donating directly to school, buying packets of rice which will help fill up the poor children's stomaches.
We were then brought to our first stop – a 'groceries store' of sorts where a pushy man tried to hard-sell us a pack of rice for USD55 to feed the school children at our next stop. Uncomfortable and annoyed (and broke because we were truly outta' cash by then), we declined.
"We donate with our hearts and within our means", KT had said.
When we arrived at the 'school' next, it was yet another attempt for us to donate. There, they did not even bother to bring us around the classrooms or interact with the children. Dropping some riels in the tin can at the entrance, we went back to our boats whereby our once-friendly guide suddenly took a back seat (literally) and stopped entertaining us.
Our last stop – a crocodile farm reared for leather with an elevated view point for tourists to look at the floating villages.
Although the tour was commercialized and our guide somewhat insincere, I guess we did get a glimpse of what it's like to live entirely on water. For USD15, we had close to 1hr out in the Siem Reap River and Tonle Sap Lake without being pressured to 'pay' more. So overall, I'm still glad we decided to go ahead with the floating village tour.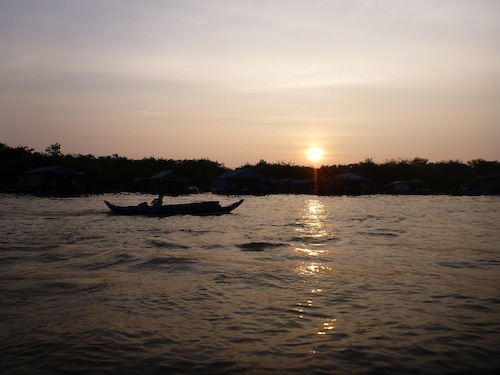 And because it was our last night in Siem Reap, we celebrated Boxing Day over a sumptuous Mexican dinner at Viva Restaurant (which tasted really good, but am not too sure if it's coz we were getting overdosed on Khmer cuisine too)
As for our last stop before boarding our sleeper bus back to Phnom Penh?
For just USD1 per person, experience the joy of fish nibbling dead skin off your feet for 15min (although you probably won't last the full 15min if you're ticklish like me). Other must-tries around Pub Street / Night Market: fresh fruit shakes for USD1, yummy banana pancakes for USD1 and the worst body massage ever at USD6/hr in which we walked out halfway.
I guess not all things come good and cheap at the same time so… like all travels, always keep an open mind 🙂
Comments
comments