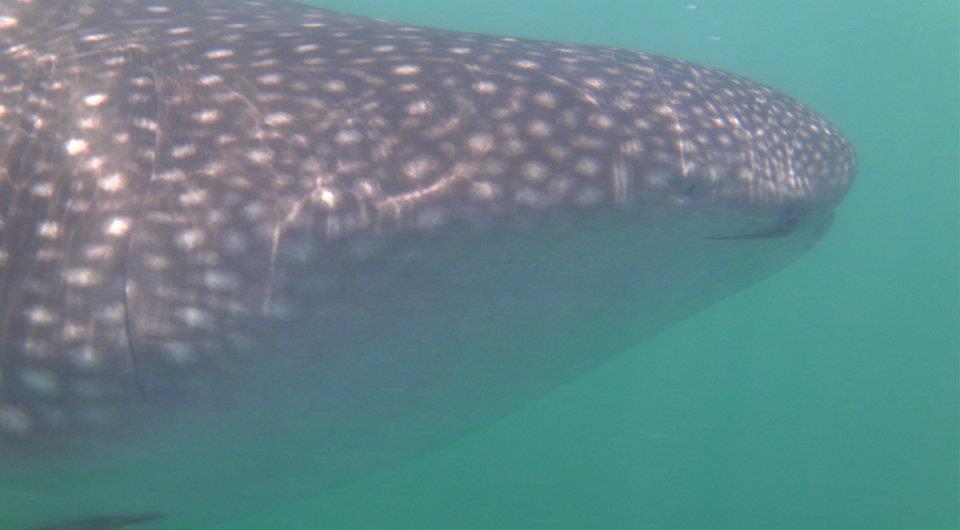 Whale sharks in Donsol
Donsol is a peaceful, fishing village that is relatively untouched except for the few seaside resorts catered for tourists whose sole purpose is to visit the butandings – meaning 'whalesharks' in Tagalog. Sightings are not guaranteed but extremely common during the peak season of Mar-Apr. We had a total of 13 sightings over 3 sessions when we were there in Mar'12.
Day 3: Bus from Legazpi to Donsol (after climbing Mt Mayon)
Day 4: Swimming with the whalesharks; cycle through the villages; fireflies tour
Day 5: More whalesharks!
We flew into Legazpi via Manila on Air Phil Express, but another way to get to Legazpi would be to fly Cebu Pacific from Cebu. From Legazpi, Donsol is easily accessible via a private car (PHP2,500) or public airconditioned vans from the bus terminal. There is no fixed time for public vans – they leave when full (or PHP1,200 for up to 15 pax).
We were lucky to join a full van, although our PHP80 ride was an extremely squeezy 1.5hrs.
The van drops right at Donsol bus station in the town centre, where you can easily get a tricycle ride to anywhere along the seaside for PHP20.
We stayed at AGM resort for 2 nights (PHP2,200/room for 2 pax). Accommodation in Donsol is generally more expensive relative to Philippines standards so this was considered value for money with its close proximity to the beach, and 15min walk/5min tricycle ride (PHP20) to the Donsol Visitor Centre (where boats set of for whaleshark interaction).
Since it was getting late (the best time for whaleshark spotting is usually morning), we decided to take an evening walk by the beach just outside our hotel… And was greeted with a beautiful sunset.
After a good night's rest, we were raring to go swimming with the whalesharks next morning!
The tour boats are pretty much 'organically organized' – simply be at the Donsol Visitors Centre at 7am to register and find other random tourists to share the costs of a boat (PHP3,500 for 5 pax). Snorkelling gear can be rented for PHP150 (or you can ask beforehand from your hotel).
Thereafter, you will have to fill up some forms, watch a video presentation and be briefed by a Butanding Interaction Officer (BIO) who will then usher you to your boat for the whaleshark-watching trip.
The whole experience was a refreshing and adrenaline-pumping one. We started by going full speed all the way out. Once far enough from the shore, the boat slows down and our spotter tries to catch any huge shadows surfacing. Whale sharks are herbivores that feed on planktons and they swim very close to the surface during their feeding time.
While we were just relaxing on the boat, it speeds up all of a sudden. The captain shouts "Everybody on the left!" and we all scramble to wear our snorkelling masks and fins, sitting side by side on the left of the boat.
"One… two… three, jump!"
Suddenly, I'm in the water. Instant silence. And this gigantic creature starts swimming towards me, its flat mouth tilting upwards.
I try to avoid coming into contact with world's largest fish species – we're not supposed to touch it or the boatmen will kick us back to shore immediately. However, its head brushes against me and it starts to swim back down. I stop moving as I watched its 6m-long, spotted-grey body swim past right below me, its dorsel fin almost hitting me again.
And that, was the first of many encounters that followed.
We went out thrice over two days (one more next morning and another next afternoon – yup, I just couldn't have enough). Each time took about 3 hours with an average of 4 whale shark sightings.
I guess we were pretty lucky to be there at the right time. It was a good season; while we were there, everyone seemed to have seen at least 1-2 whale sharks.
Although there was one downside about being there in the peak season – crowd. When a surfacing shadow is spotted, there can be 4-5 boats speeding towards the same area. As you can imagine, the situation in the water is quite chaotic with tens of people kicking frantically to chase the same whale shark. You should be comfortable enough to not panic when a foot accidentally hits off your snorkelling masks, and at ease with holding your breath underwater long enough for a free dive to truly enjoy a peaceful swim beside the gentle giant.
Here's a video that pretty much sums up our whale shark experience in Donsol:
As the whale shark boat tours only take place twice a day (7am and 11am), you will find yourself with lots of free time. Here're a few other experiences in Donsol that were just as memorable:
1. Donsol Firefly Tour
It was an incredible boat ride and worth every peso of the PHP250 (it costs PHP1,250 for a 1.5hr boat ride shared by 5). To get there, simply hire a tricycle and request for him to wait for the return trip (PHP10-20). We started at a small jetty right below the only prominent bridge in Donsol – anyway, the village is so small everyone knows where the 'Firefly Tour' starts from.
The number of fireflies along the river was simply countless. Whole mangrove trees were dotted with fireflies that twinkle in sync. If you look up, the sky was a mirror of the sparkling christmas trees below, littered with stars and occasional shooting stars that appear.
It was quite a magical river cruise.
2. Sunset / Glowing Bioluminescent Planktons in the water
I've already shared earlier on the beautiful sunsets of Donsol but even after night falls, the beach remains enchanting.
For one, simply look up to see a dense cluster of stars. We had laid on the sand for just an hour and caught a few shooting stars.
To top it off, walk into the water to create ripples of sea sparkle. The same plankton that attracts whale sharks – abundant in the waters of Donsol – happen to be bioluminescent. If there is movement in the water, these planktons emit light and glow like a sea of stars.
You can imagine how fascinating it was to splash glittered water on the beach, in the middle of the night.
3. Cycle around the village
Cycling is a great way to take in the whole town in a quick, enjoyable way. We cycled all the way to the town area and had our lunch at the 'city centre', eating street food from random makeshift stalls.
4. Venture into the paddy fields
It all started out of curiosity when we decided to walk across the paddy fields near our resort and check out what's on the other end. Turns out to be a whole kampong village where the locals went about with their lives. The children were innocent yet cheeky, while the adults were warm and friendly, offering us to try their pork and wine (the latter was strong as hell).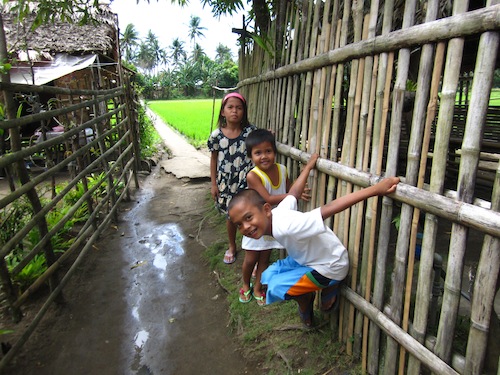 They even invited us to work in the paddies – and teased our slow, clumsy hands.
5. Simply chill out
Cheap beer and massages are aplenty. By the beach. What more can you ask for?
(You could also consider climbing Mount Mayon. Read about my hike at [Bicol]: Mount Mayon)
Comments
comments