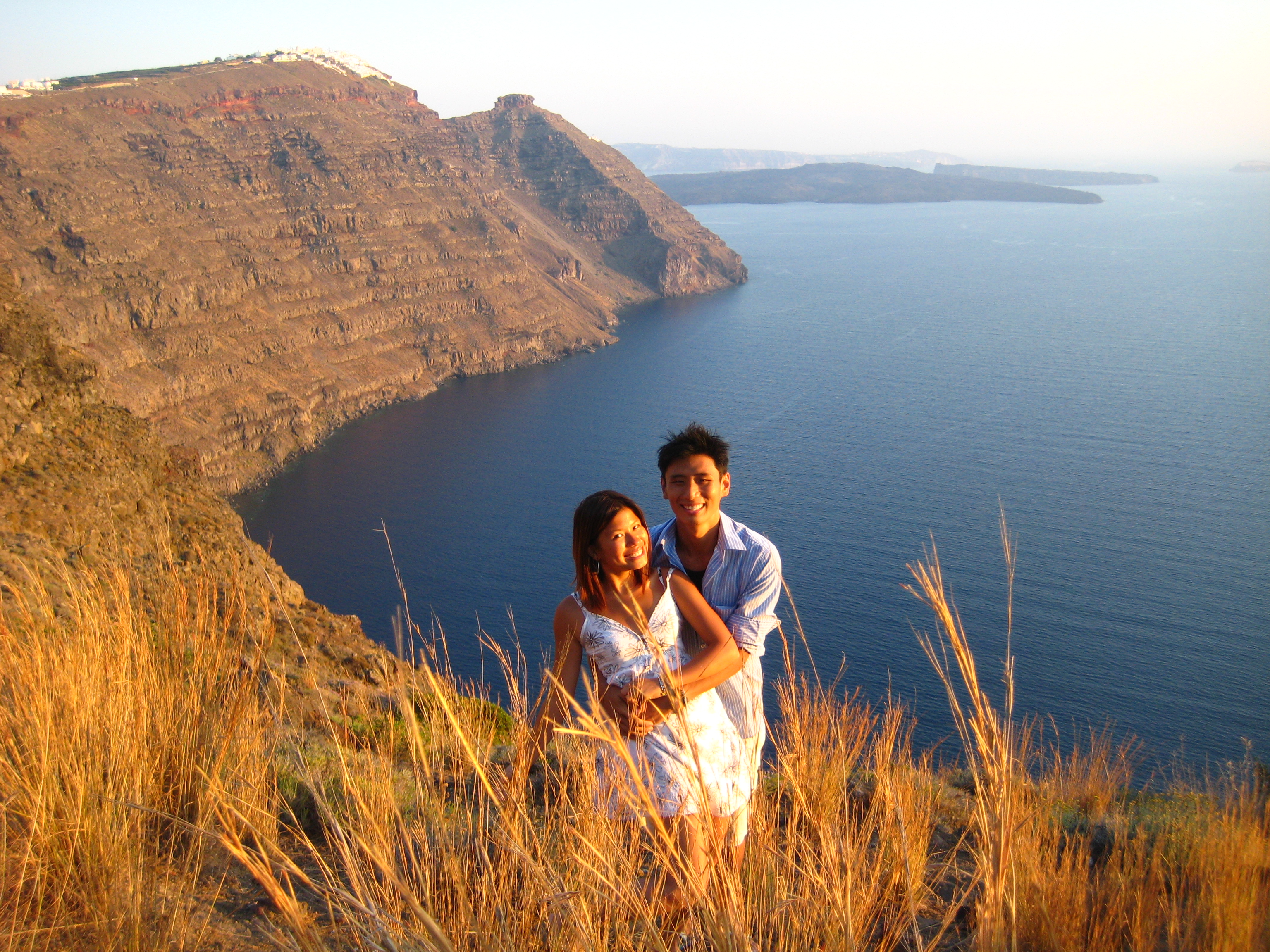 The Next Adventure Awaits
It's been a week since our big day. To our family and friends who had taken the time to join us, we thank you once again for your company and we sincerely hope you've had a good time.  To those who weren't able to, here's a recap of the photo montage and our speeches. Enjoy 🙂

KT's Speech
When was the last time you did something for the very first time?
We liked this rhetoric a lot. We meant for it to tickle and awaken your curious mind. The adventurer, the explorer in you. To try new things no matter how insignificant they may seem to others. For me, my list of 'firsts' grew exponentially since I met Pei Xun. Being the lady explorer that she is, her man definitely has to match up. And boy am I glad that she thinks that I am qualified.
This despite the fact that we are same same but different..
We both love the beach, the sun and the sea. That's coz we grew up on an island, albeit different ones. She is a city girl, born and bred in Singapore. Me a kampung boy from Penang.
She has always been super sporty. (And actually look good doing it). I watched too much sports. In NUS, she studied arts. I did a course with way too slim a chance to meet a girl as awesome as Pei Xun. Thank goodness for the fact that our time in Kent Ridge Hall overlapped, which was the start of it all.
At this juncture, I'd like to honour my family, without whom neither KR nor NUS would have been possible to begin with. To my mom – you are the family's rock, always providing the strength and support for Ming, Papa and myself. My dad – you worked tirelessly your entire life to put rice on the table for us. For a promise of a better future. To Ming, you were always the mischievous one, but have surely grown to be a very responsible man with so many lives entrusted to you. Thanks for looking after Papa and Mommy while I was away.
Ok, let's get back to the list of differences.
Pei Xun traveled the world since she was born. The furthest I have ever gone before I came to Singapore, was Bangkok. Since the age of 2, the yearly Woo family affair has evidently moulded Pei Xun's personality in many ways to the superwoman we all know. Energetic. Independent. Optimistic. Never-say-never and sleep-is-optional attitude. And I can only thank Daddy and Mommy Woo for all these positive values you have instilled in her from a very young age. And also not to forget Jia Xin and Wan Xin who made sure Jie Jie is not spoilt and pampered as the only child.
So when was the last time we did something for the very first time?
For us, we like to consider ourselves working on so-called 'projects' when embarking on an activity, a mission with a common goal. One after another. Pei Xun is the one with plenty of ideas and inspiration. I provide the perspiration. Well we make a darn good team. It could be something small like participating in SG50's nationwide hackathon, or striving to hit our marathon personal bests. Or it could be some landmark projects like planning/training for our mountain backpacking trips, our home renovation. Not forgetting this banquet of course. If our projects were a boat, Pei Xun is its colourful sail and me its engine. Distinct strength, yet capable of helping the other out, depending on the situation.
All these couldn't have been possible without the people in our lives, that's for sure. To our family members – you have been and will always be the continuous source of wind and gas to the sail and engine respectively. For instance, I recall how our weekend home diy reno turned out to be fun-filled gatherings, with Pei Xun's family surprisingly turned up with tools, food and drinks. To our various groups of friends, shiongdi's (Johnny, Alvin, Ivan, David, Yiwern, Weliam) and jiemei's (Lien, Yayan, Yiting, Vonn, Chang, Vern, Wanling, Qiutong) – you are like the archipelagos of islands along the journey, letting us dock and recharge for the night before conquering the next waves. A special mention to Alvin Chong for capturing all of the pre-wedding shots, immortalising our adventures, with dramatised effects of course. And to our bosses and colleagues, thanks for funding the voyages. Oh I mean, for teaching us the ropes.
So when was the last time I did something for the first time?
That would be marrying this intelligent and inspiring lady, the girl of every guy's dreams. Pei Xun, perhaps I should add that it is also for the first and only time. I can still vividly recall the mini-adventure leading up to the sunset in Istanbul when I first asked you to be mine. Booked a last minute flight from London, crashed your family's holiday, missed the ferry out of the island, and hiked to the cliff against time. When I asked you to marry me on the Trillion Star yacht off the Singapore shore against the setting sun and fireworks, the sail has been set, and the engine started. I look forward to many many more adventures in life with you.
Family and friends, ladies and gentlemen, it is our great pleasure and honour to have you here with us today. You know you are truly special to us – considering we all have to squeeze cosily in this place, you can be sure we didn't invite you to fill up seats. Thank you and we hope you enjoy the night 🙂
Xun's Speech
Wow, we made it! Our boat has arrived at a major port of call. We've been on this journey for 7 years now – not always smooth-sailing – but how boring is that, if we remained comfortable in calm, still waters. Thank you, Kuan Thye, for being ever ready to sail into unchartered oceans with me, always game for my silly ideas – from climbing our next mountain, exploring a new idea for a project or even sticking a picture of Santorini on our bathroom window, so we get a sea view every day.
Sometimes, our boat ride ends in shock – just like earlier this year in March. It was during Restaurant Week and KT had booked a place for us to try. Nothing fishy – given that we had gone for many restaurant weeks before. We arrived early at Keppel Bay, so KT suggested taking a stroll by the boardwalk – where he spotted an old friend from afar. Turned out to be an ex-colleague who's a retiree now apparently, going to his yacht to fetch some passengers from Lazarus Island. We were invited to join him, so KT looked at me and said "Wanna go?" Of course I said yes. As we sailed out into the waters, I remember thinking to myself, "Oh man! We're sucha spontaneous couple! Even a simple dinner date ends up in a boat ride out!" – when suddenly, KT knelt on the ground and mumbled some words before I heard him say "Will you marry me?" At this juncture, all I could respond was "So this is all a scam?!"
I agreed eventually of course – but this really showed how thoughtful and determined KT can be. He managed to shock me, even when I had been expecting a proposal for the longest time. From then on – it was projects after projects. Just like deepsea fishing, our boat moved swiftly to wherever its sonar detected fish. It was by chance that we discovered this beautiful venue, taking a bet just in May to go ahead based on artist impressions. So for us this year, a large portion was spent visiting construction sites – from the National Gallery to MacPherson Residency – as we tried to imagine how our new home and wedding venue would look like, at times even discussing how to sneak in. It's been a lot of fun, anticipation and excitement but finally, 6 months later – or should I say, 7 years on, we've arrived here today.
For those who know Kuan Thye, you would know he wasn't serious earlier about just watching sports. This is the most driven and competitive man I know. Even two ACL surgeries couldn't stop him from his adventures, as he diligently made sure he progressed from crutches to completing a full marathon just within a year. When the air is still and my sail can't catch wind, he is the super power engine that propels us both forward. Thanks Kuanthye, for preparing rainbows for dinner after a bad day and for doing the dishes whenever I don't feel like it. Thanks for inspiring me to do what I can do and always responding with a "Why not?" or "Let's do it!" I know for sure we can sail anywhere together because even when we hit the rocks, we are ever ready to take out our paddles and manoeuvre the tricky waters.
Of course, I have my new mom and dad to thank for raising such a fine young man. It's an honour and I am truly grateful to be accepted as part of the Ching family now.
Most importantly, thank you mommy and daddy. Whenever my friends hear about dad's solo gorilla trip to Uganda, or hiking Mount Bromo alone, they always respond with "Oh that's how you turned out like that". Thank you dad for going all out to bring our family together, despite our busy schedules. And mom, thanks for working tirelessly all these years so our whole family gets to travel the world every year with SQ. Well, if your aim was to raise happy kids, I think you've done a pretty good job. You have both taught me to value experience and relationships over other frivolous, material things in life; in doing so, equipped me with the skills to adjust my sails according to the wind. Jiaxin and Wanxin, I couldn't have asked for more to have you two growing up in the same boat, but never growing out of love for adventure. You're all grown up now – with Jiaxin flying all over the world and Wanxin even more enthu than I was in KR. But to me you'll always be the little sisters I'm so proud to have.
To everyone else in this room, thanks for being part of our voyage and from time to time, guiding our boat across the waters of life. Special shoutout to my bridesmaids – Yayan, Yiting, Wanling, Tong for your quirky ideas and helping hands today, and the days leading up. Lien especially for the beautiful flowers, Vern for hosting the night of great music. Not forgetting Chang, for belaying me off the cliff during our crazy wedding Photoshoot (thanks again, Alvin Chong) and Vonn for getting the antihistamine when my hands got stung and swelled up like a bear paw. Together we've fought on the field, gave it our all on stage and broken many rules. We've had our virgin clubbing experiences and gone for first big trips abroad. Look how far we've come now – starting businesses, helping kids, helping the elderly, getting married; may we always be hopeful and hungry for new adventures, and never stop believing we can make this world a better place.
So when was the last time you did something for the first time? To help you along, we hope you will like the little gift we've prepared and find it useful. It's small but packs a punch – feel free to bring it along for your holidays!
Cheers to your next adventure!
Comments
comments