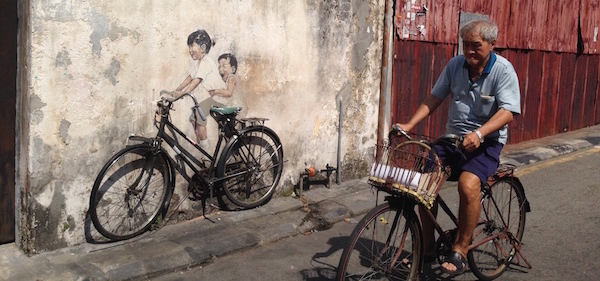 Top Things to Do in Penang
Dating a native Penangite for the past 7 years meant I had plenty of chances to visit this charming island, just off the west coast of Peninsular Malaysia. Even so, I've never grown tired of going back. Penang is a delightful mix of history, culture, beaches and fooood. There is always a new place to discover, new dish to taste. Here's my top 8 favourite things to do (so far):
1. Street art in George Town
It all started with a street art project by Lithuanian artist, Ernest Zacharevic for the 2012 George Town Festival. The series of wall murals combine with 3D props to reflect everyday life of the locals. The project blossomed, adding on to the quaint whimsicality of George Town, a UNESCO World Heritage Site. Most of the wall art can be found around or on Armenian Street itself.
I must say – it's pretty fun coming up with creative poses beside these life-sized murals.
2. Clan Jetties along Weld Quay
The quay was first constructed in 1882, attracting Chinese immigrants to build their homes here on stilts. It subsequently grew to become whole settlements of different clans. There remains 7 clans today: Chew, Ong, Lim, Tan, Lee, Yeoh and Chap Seh Keo (Mixed Surname Clan) Jetties.
The Chew Jetty is the most famous with the highest occupancy. Many families still reside there, as you will see them going about their daily routines when strolling down the narrow, wooden walkway. Some of them earn an extra living by selling souvenirs or drinks to visitors. Others continue as fishermen/boatmen who dock their sampans (or motorboats) at the functioning jetty.
From Armenian Street, walk straight towards the shore to reach the entrance of Chew Jetty.
3. Hawker Food
Aaand finally, after the appetisers comes the main course. For the uninitiated, Penang is a mecca for foodies, a regular in "Top Food Cities" lists like here, here and here. Its melting pot of cultures has tastefully cooked up plenty of flavour, spilling all over its streets in the form of hawker food.
To name a few must-tries: Char Kway Teow, Assam Laksa, Curry Mee, Rojak, Hokkien Prawn Mee, Chendol…………(:
*just let me wipe my drool first 
While you're likely to easily find hawker food just around the corner, here are my shortlisted few:
Air Itam – Assam Laksa
(Jalan Pasar, Paya Terubong, 11500 Pulau Pinang, Malaysia)
Did you know that Assam Laksa is the 7th best food in the world according to CNN? This tiny bowl of goodness will bring a burst of flavour the moment it hits your taste buds, with its thick, spicy-sour fish broth filled with flaked mackerel, chilli, onion, pineapple and vegetables. The one at Air Itam is unarguably one of Penang's best, proudly hemming its tagline of being "The One and The Only One".
Penang Road Famous Teochew Chendul – Assam Laksa, Chendol, Char Kway Teow
Jalan Penang, 10450 Pulau Pinang, Malaysia
From a humble roadside Chendol stall back in 1936, Penang Road's Famous Teochew Chendul slowly expanded to Assam Laksa, Rojak and even a successful franchise with outlets springing up across Malaysia today. Chendol is a popular shaved ice dessert with pandan-flavoured toppings, drizzled with light coconut milk.
The Assam Laksa here is my personal favourite as its portions are generous and I love the springiness of its noodles.
Kafe Heng Huat – Char Kway Teow
108, Lorong Selamat, Georgetown, 10400 Georgetown, Pulau Pinang, Malaysia
Yet another one of Penang's best Char Kway Teow (fried rice noodles with cockles).
Gurney Drive Hawker Centre
172, Solok Gurney 1, Georgetown, Jelutong, Penang, Malaysia
Granted that it's a little touristy and slightly more pricey, this is the best one stop shop to enjoy Penang's variety place to enjoy the wide variety of food. It is also right across the beach – where you can walk it off after all that feasting.
Ok, time to digest and move on.
4. Pinang Peranakan Mansion
Instead of stomaching it all, it's worth getting a taste of Peranakan culture beyond its cuisine. After visiting the Pinang Peranakan Mansion, I discovered that the heritage of Babas and Nyonyas is as rich as their food. The green mansion was built by local personality, Kapitan Cina Chung Keng Kwee, a Chinese businessmen in tin mining and opium trading. He was the wealthiest man in Penang during his time. He was also a secret society leader.
Although not a Baba himself, the residence is reminiscent of a typical wealthy Baba house that blends together different styles – Chinese carved wooden panels, English floor tiles and Glaswegian cast-iron columns, complete with a temple dedicated to himself. The opulence of their lifestyle, customs and traditions shines through every single piece of the thousands of jewellery and antiques on display.
A guide is free and definitely must-have, else the collectibles in the house will be reduced to empty, expensive items. Our guide injected meaning to the place by explaining its history and pointing out the details. For instance, I learnt that a couple's bed comprises of two joint single beds – the only way for Nyonyas to express their displeasure by separating the gap in times of domestic fights.
Also, the wife is adorned with a dragon robe in the below picture. This alone in China would have caused a beheading, but was possible in Malaysia because the Sultan placed much less importance on the dragon, compared to the Emperor.
5. Kek Lok Si (Temple of Supreme Bliss)
Kek Lok Si is the largest Buddhist temple in Southeast Asia. The magnificent temple is built on a hill, with a beautiful maze of gardens, courtyards, a seven-tier pagoda and a giant Kuan Yin statue. If you look closely at the pagoda above, its architecture is an eclectic combination of styles: the spiral dome is Burmese, the middle tier Thai and the octagonal base Chinese.
Towering from the hill above the main temple is a majestic bronze statue of the Goddess of Mercy. The RM70 million statue stands at 30 metres and is sculpted by the same artisans who crafted the world's largest sitting Buddha statue in Hong Kong. It replaces the previous white porcelain statue that was damaged by prolonged exposure to rain since 1977 and a fire in 1993.
Visitors can enjoy a scenic ride from the main temple to the Kuan Yin statue on Malaysia's first inclined lift that moves diagonally along the hill.
6. Batu Ferringhi
Batu Ferringhi is a long stretch of sandy beach on the Northwestern coast of Penang Island. The waters are clean and warm to swim in, but frankly, cannot be compared to the clear, pristine beaches of islands like Redang or Tioman west of the Peninsular. Still, it's a lovely place to relax, catch the sunset or enjoy a massage at one of its many parlours. It's also worth paying a visit to the famous 'Pasar Malam' or night market selling random things from souvenirs to counterfeited goods.
For a little more excitement, there are plenty of seasports to try. My virgin parasailing experience was here in Batu Ferringhi.

7. Penang Hill
With an elevation of more than 600m above sea level, Penang Hill offers the best panorama of Penang and its eastern coast, including the bridge that connects to the mainland. There is a funicular that brings visitors right to the top. The Penang Hill funicular tunnel, with a steepness of 27.9°C, is the steepest tunnel track in the world!
Fitter souls can also hike up Penang Hill through a paved road that starts from the Penang Botanical Gardens.
8. Penang International Bridge Marathon
The Sultan Abdul Halim Muadzam Shah Bridge – or Penang Second Bridge – is 24 km long, with 16.9km over water, making it the longest bridge in Southeast Asia. It is also the venue for the world's longest bridge marathon.
For avid runners, the Penang Bridge International Marathon is a great opportunity to run freely on the bridge which will be closed off to vehicles for that few hours. On any other day, it is impossible to walk across the bridge as there are no pedestrian sidewalks. The event happens twice a year (half-marathon in June and full-marathon in Nov).
The list could go on, but I guess I shall stop at these top 8. Hopefully more to come in my next trip!
Comments
comments