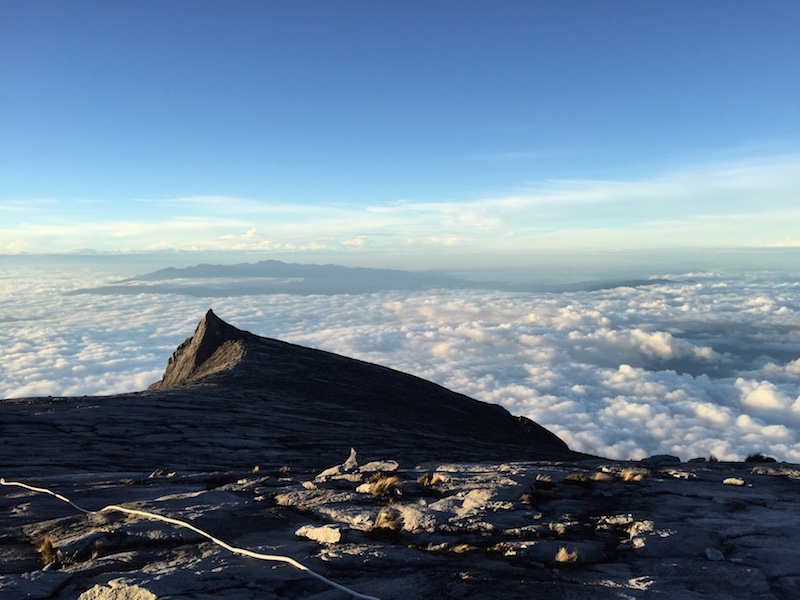 How To Climb Mount K with RM500
Climbing Mount Kinabalu has always been in my list. In Feb 2015, the opportunity came up when I was in Sabah for a business trip. Since I was going solo, I wanted a no-frills trip – get in, get up, get out. A check on the net revealed many all-in packages offered by tour agencies and travel operators. They got everything covered, but I didn't want to pay the exorbitant prices. So I put together my own ala-carte itinerary. Here's how I did it.
1. Getting from Kota Kinabalu (KK) to Kinabalu Park: RM25
Padang Merdeka – located in the heart of KK city centre – offers a wealth of options for travellers. Minivans, minibuses and taxis big and small line the area, ready to zoom away once their seats filled up. To reach Kinabalu Park by 8am, I had no luxury to wait in a random taxi. So I went around looking for groups I could share one with. It took me 2 minutes to hook up with a group of six.  We each paid RM25 for a 7-seater taxi. Immediately we were on our way for the 2-hour drive.
Other options:
Look for minivans heading to Ranau. They'll drop you off at the Kinabalu Park entrance. First bus leaves 7am. Last one 4pm. Price: RM17/pax
Taxis for hire. RM100-150 one-way. If your party is 4 pax, this is the most economical mode of transportation. I met this friendly taxi driver with whom pre-arrangements can be made. Text Mr Yap @ +6013-8723718
2. Park Conservation Fee: RM3 (RM15 for non-Malaysians)
3. Mountain Guide: RM150
No hike is permitted without a licensed mountain guide. Upon reaching the Kinabalu Park Office, I registered for one. When I discovered the maximum group size-to-guide ratio was 3:1, it was already too late. That meant I had to foot the entire RM150. At least I could go at my own pace, I consoled myself.
The mountain guide may also double up as a porter if you overpack. The going rate is RM10/kg one way.
4. Transportation to/fro starting point: RM34
Monopolised by Koktas, a minivan service shuttles the 5km route between the Park Office and the trail head. I contemplated making the journey by foot. But it was only logical to conserve for the actual 9km trek to the submit. No pre-booking required.
5. Lamaing Hostel: RM100 (+RM25 service charge)
Spending the night at Laban Rata base camp was necessary. With a capacity of less than 200 spread across several hostels, pre-arrangement is a must. I booked a bed in Lamaing Hostel dormitory for RM100. Having just opened in 2013, it is not just the newest, but also the cheapest. I contacted Koktas (+608-8889099) one month before my trip to assist with the booking and bank transfer. The RM25 service charge was absolutely justified given the impeccable service provided by Koktas' staff.
Laban Rata Hostels:
6. Climbing Permit: RM30 (+6%)
This is mandatory for all climbers. It is to control the number of hikers in the name of safety and conservation. Do I have to get it before my trip? you ask. Yes – like the accommodation, I got mine secured way in advance. Kostas helped with this too, for a nominal service charge of 6%.
Note: RM30 for Malaysians, RM100 for non-Malaysians
7. Insurance: RM7 (+6%)
Minimal coverage insurance plan mandated by the Sabah Parks authority.
8. Food: RM50
I read that food in Laban Rata is grossly overpriced. So I decided to provision my own meals. I packed canned tuna, red beans, bread, isotonic drinks, coffee and milo from the local hypermarket the night before heading to Padang Merdeka. RM50 spread throughout 4 meals (+countless snacks during hiking breaks) wasn't too bad at all. The only downside? I had to lug them throughout the 6km trek to Laban Rata. Well, at least I got my weights training covered.
All hostels have piping hot water. If you fancy a hot cuppa instant noodle, or 3-in-1 coffee, in the dark chilly night, be sure to pack a few in. They are pretty lightweight any way.
9. Getting back to KK – RM25
I completed my 4-hour descend and arrived at the Park Office at about 3pm. Most people would arrive around this time. So it is only normal to have the place bustling with people, taxis and minibuses. I approached a 3-man party to share a taxi with them. Apparently the leader had already booked a 7-seater taxi. In the end, we roped in three others to make up the numbers. We each paid RM25 and everyone was happy, including the driver.
Unless you arrive back at the Park Office after dark, you will see many tired but happy faces eager to depart for KK. Ask around. You will surely find a person or group with whom you can share the 90km-trip.
10. Absolutely Optional: Via Ferrata
Normally, climbers pre-book for the activity as of part tour agencies' package. This is because Mountain Torq, the exclusive operator of Mount K's via ferrata, does not accept any independent booking.
Since my trip was supposedly budget, it was not part of the plan. After all, several phone checks revealed prices over RM1000.
When I reached Laban Rata, I visited the Mountain Torq office (in Pendant Hut) curiously. The listed price was RM440 to Walk the Torq . Damn, I'm already here. I might as well do it. I was lucky they could accommodate me. In fact, I was the only one on the route because others opted for the longer Low Peak's Circuit.
If you have pre-booked, make sure you arrive at Pendant Hut before 4:30pm for the training and safety briefing. Otherwise, you will not be allowed to participate and your payment could be forfeited. And if you absolutely need to try via ferrata, do not leave it to chance. Pre-book to secure your slot.
Going DIY meant I had more homework to do. And a bigger backpack to carry. But it didn't make my Mount K experience any less spectacular. I got a first-class spot atop Low's Peak to witness the sun creep out of the horizon and reveal heavenly clouds beneath. Despite shivering in the 5-degree C wind I thought to myself, this is all worth it. Now I have some extra cash for my next mountain. I'm sure you can do the same too.
Comments
comments