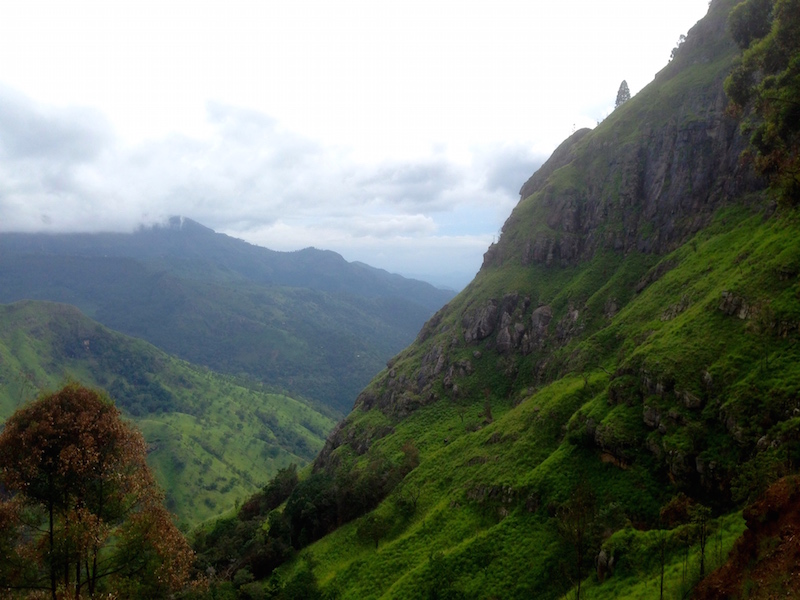 Lost in Ella Rock
Unlike our last two well-marked routes at Adam's Peak and Horton Plains, the hike up Ella Rock was extra special in its own unguided, haphazard way. Following the vague directions from our friendly innkeeper, we simply started walking from our hostel along the train tracks towards the huge Ella Rock that was hard to miss, asking for reassurance every time a passer-by came by.
It was a long but scenic walk, lined with bamboo hut restaurants and zealous owners standing at the entrance, gesturing us to go in. "We'll come back later!" we'd respond the same each time to their enthusiastic smiles, before turning our heads back onto the ground. The wooden railway tracks were far apart and required our focus in order not to miss a step. Looking up towards the pretty waterfall from afar would mean risking a fallen foot into the muddy space between two wooden planks.
Finally, we came onto a small path on the left which seemed to lead towards Ella Rock. Ella Rock, this way? The group of locals gathered around the fork nodded.
Not before long, we found ourselves in the middle of a tea plantation. There was no visible path ahead – but we bashed through anyway, between the overgrown grass that kept slapping our arms and faces.
We emerged unscathed into a clearing that opened up to the valley, framed by soaring Ella Rock at the corner. Ella Gap, they called it.

After we had enough of the view, it was all the way up through some seriously steeped forest before reaching the top – ending at a cliff that offered gorgeous views of the valley and lush green hills on the other side so perfectly manicured it almost looked like an gigantic layer of carpet grass was carefully draped over.
Then came the exciting part, when we made our way down. It was difficult to trace our route back since we kinda bashed our way through – again. Everything looked familiar, yet not quite the same. Suddenly, we realized we were lost. As if to make things worse, the sky rumbled, threatening a storm at any moment. And in the distance, we heard loud, sporadic gunshots. I looked at S who was wearing a black jacket and joked, "at least I won't be mistaken as game in my electric blue gortex".
We continued to head in a downward direction as we felt the first drops of rain. It'll be fine so long as we keep descending, I thought out loud to reassure myself, until we spotted some fellow hikers from afar and quickly ran towards the flash of bright-coloured fabric. "Just go straight this way and you'll come out into the clearing", they pointed. Thankfully, we were back on a proper path.
Soon enough, we were in one of the restaurants along the railway tracks, gobbling down lunch. As we made our way back to the hostel, the skies finally gave way and started to pour heavily. Then, the locals started shouting at us to go in, "Get off the tracks! The train is coming! Take shelter from the rain in our restaurant!"
We didn't know whether to believe them, so we continued walking on the train tracks for awhile, until fear overtook cynicism and nudged us aside into the bushes.
"There are many leeches there! Come inside!"  they went on. As we stood still and tried to make a decision, a loud siren interrupted our train of thought. The locals were right about the incoming danger.
And so we watched the carriages speed past us in our leech-infested bushes, quickly hopping back onto the tracks after the train came and went. The rest of that afternoon was spent cleaning our shoes at the hostel before we set off for our next city. At least this was our last hike in Sri Lanka, but what an eventful one it was.
Trip at a glance (Ella)
(LKR1,000 = SGD1.00)
1 Night at The View Ella Hotel/4pax: USD100
Lunch/4pax: LKR1,820
Car from Ella-Embilipitya/4pax: USD70
Next: Land of the Gentle Giants: Elephants and Whales 
Comments
comments