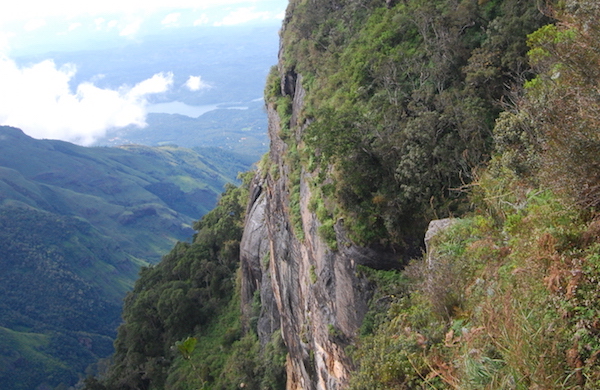 Horton Plains: World's End and Baker's Falls
"What time is the train coming? Can we buy our tickets already?" I asked the man for the 3rd time in the ticketing office from the back door. We were getting restless at Hatton Railway Station, the fatigue setting in from our early morning hike up Adam's Peak. Our train was supposed to arrive at 2.30pm, but it was already 3pm and still we couldn't buy our tickets. We could never understand the logic of opening the counter only 10min before a train arrives, despite the people selling those train tickets being jolly well present in the office and obviously unoccupied.
The ticket man finally relented and I walked back triumphant to where the rest were seated together with our backpacks. K was still carrying her newfound baby – a tiny, almost-infant puppy who had taken a liking to her the moment we sat down. He had approached cautiously before nuzzling affectionately between her ankles for some warmth, shivering and yelping at the same time. Even K couldn't withstand the adorableness as she whipped out the blanket borrowed from our plane ride to wrap him snugly in her arms.
After he fell asleep, we placed him in a corner of the station before quietly making our way to the platform for our train to arrive.
The train ride from Hatton-Ohiya is my favourite. We couldn't get a seat at first, so we stood at the open door occasionally swinging our heads outside to feel the wind gush in our faces. Our train chugged through rolling tea plantations, occasional waterfalls and villages where random strangers would wave back at us. The views were amazing, and the cool air against our cheeks very invigorating.

Ohiya is a small station with hardly any one alighting, so we had to keep a lookout for it and jump out with our backpacks before the train moves off within the same minute. This time round, the tuktuk drivers claimed it was impossible to get to our hotel with all four in a tuktuk.
"Trust me," he had assured us with confidence, "You take first –if you still don't think so after you reach, you don't pay."
After a treacherous, bumpy ride round a winding slope (with the intermittent extra-hard revs to overcome the steeper parts), we arrived safely at our beautiful guesthouse overlooking the plains below. By then, we fully understood the rationale of getting two tuktuks instead of one and paid the full fare, of course.
Early next morning, our two tuktuks were waiting at our doorstep to bring us to Horton Plains. It felt too soon to leave. Hill Safari Eco Lodge was a cosy place tucked away in the hills with such amazing views – if only we had booked one more night. I made a mental note to come back for a longer stay next trip.
Horton Plains National Park is an undulating plateau in the central highlands of Sri Lanka. At an altitude of 2,100-2,300m, the hike is a cooling, enjoyable walk through cloud forests, grasslands and sudden cliff drops overlooking a valley of green mountains and clear blue coastlines from afar. A loop around the World's End trail takes you through the Lesser World's End, the World's End and Baker's Falls in about 3-4hs walk. We heeded the locals' advice to start before 8am and were lucky to beat the clouds just before they started rolling in.


Trip at a glance (Horton Plains)
(LKR1,000 = SGD1.00)
2nd Class Train from Hatton-Ohiya: LKR100
Tuktuk to Hill Safari/2pax: LKR500
1 Night in Hill Safari/4pax: USD163 (before my $50 OCBC promo code for Airbnb!)
Tuktuk to Horton/2pax: LKR2,300
Horton Plains Entrance fees: LKR2,500
Next: Lost in Ella Rock 
Comments
comments