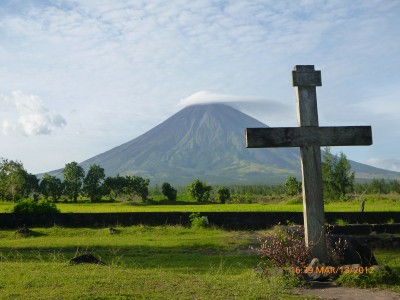 Mount Mayon
It's kinda creepy how Mt Mayon had a phreatic explosion just 1 year after our visit, killing 4 foreign climbers and their local guide. There was no warning with a volcano alert level at 0. But somehow, rain water had come into contact with hot ash on at the crater, triggering it to spew ash and rocks as huge as cars. It could have happened to anyone.
Day 1: Arrive Legazpi from Manila at 10am, start climb after lunch. Overnight at Station 1
Day 2: Breakfast and leave for summit, lunch and back to base camp
Our hike up Mt Mayon started on 10 Mar 2012, 1+ year before the sudden steam-driven eruption happened on 7 May 2013. Since then, all activities near the volcano have been banned and I don't know when it will resume again. But just for keepsake and the possibility of it re-opening in future, here's how my beautiful, memorable encounter up the 'world's most perfect volcanic cone' went:
We took a scenic 1hr domestic flight (Air Phil) from Manila, landing on the small airport runway right beside Mt Mayon. We had pre-arranged with Bicol Adventure for an overnight trek to the crater summit (PHP7,000/pax) and they were already waiting for us at the arrival gates.
After our bicol lunch, we dropped our unnecessary baggage (not needed for the hike) at their office and were off to the starting point in a truck!

As per most hikes, the start of the trek consisted of walking through the dense forest at a steep ascend. After just about 1hr, we arrived at Station 1, our camping ground.
From here, you get a clear view of the lowlands and sea below – it would have been a beautiful sight except that for us the dark clouds were looming ominously and you could see rain approaching from afar.
True enough, it started pouring by nightfall. We found ourselves huddling in our tents drinking hot milo. Roasted chicken and piping hot maggi soup never tasted better.
After a cold, wet night in our tents, we were off for the summit at 5am!

As started climbing to the higher altitudes, the landscape started to change dramatically. We were on to the gulley – the trail left behind by flowing molten lava from Mt Mayon's previous eruptions. It was a steep, challenging ascend up slippery rocks that required us to go on all fours, and the thickening fog was not helping.
Just as we reached the end of the 'highway' where we were already so close to the summit, our guide instructed us to stop and wait out the fog before continuing. The visibility was getting quite bad and we could hardly see a thing.


Then suddenly, the skies started to clear! Well, kind of. As the clouds shifted away, we could see the vast plains below and the ocean that stretched across the horizon. What a pity, really, that the weather was crappy. It must look really amazing on a sunny day.
The clear sky was fleeting and our happiness short-lived. Before we could catch a few more shots, the fog was back. To make things worse, it started to drizzle! That was the sign for us to turn back.
"It's too dangerous," our guide had said, "You won't even be able to spot and avoid any potential tumbling rocks".
On hindsight, how true his words were. But all we wanted at that point was to scale the summit. With our heavy (and resentful) hearts, we turned back towards where we came from.
Because of the steepness of the gulley, we found ourselves descending with our butts most of the time. It was great, challenging fun although we did slip a few times due to the wet rocks.

Better luck next time! Although looking back, I'm just glad we made it back safe and sound. And we had much better luck with the whalesharks next day too!
Here are two more places in Legazpi where you can catch a good view of Mt Mayon:
1. Cagsawa Ruins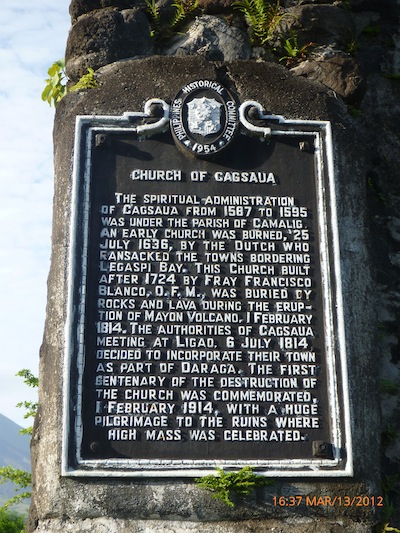 The Church of Cagsaua was built in 1724 and destroyed in 1814 when the Mayon Volcano erupted, burying most of it in rocks and lava. The standing church tower are most of what's left of the Cagsawa Ruins today.
The cross shown below commeorates the people who died during the 1814 mayon volcano eruption, whom ironically fled to the church to seek sanctuary only to be engulfed by lava flows.
2. Lignon Hill
Lignon Hill Nature Park is a small hill at Legazpi that offers a view of Mt Mayon, the Albay Gulf and Legazpi City (you get to see the entire stretch of airport runway). It takes about 30-40min to the top on foot, but we had enough of hiking by then and went up via our rented car.
If you're in for some adrenaline-pumping activities, you can also rappel down the hill (~PHP250) or zipline across (~PHP300)
Comments
comments