9 Reasons Why You Should Visit Lijiang & Shangri-la
"Ohh okay… So what's there to do in Lijiang?"
That was the typical response I got from sharing where my next holiday was. And I would struggle to explain why anyone would visit this sometimes overlooked town in China – other than the fact that Tigerair flies there and the food is really cheap.
But Lijiang is so much more. Now that I'm back from an amazing 10 day journey in Northwestern Yunnan, I can't wait to share with everyone about the burst of colours and cultures this area brings.
Shangri-la was actually named after the idyllic paradise on Earth as first described in James Hilton's novel, Lost Horizon. If that's not enough to trigger the wanderlust in you, here are 9 more reasons to visit Lijiang and Shangri-la:
1. Walk the ancient cobbled streets of Lijiang Old Town(丽江古城)
Get lost in the maze-like, 800-year-old streets of Lijiang Old Town as you navigate through canals, bridges and wooden shophouses selling flower pastries, silverware, naxi handicrafts and dried yak meat. This place is so ancient that some of its cobblestones shine like marble, polished by the soles of daily passersby since the Ming Dynasty.
In the day, the narrow streets are filled with the sound of local CD shop owners slapping their drums to their playlist. Come nightfall, the town lights up with its red lanterns, bright roofs and colourful disco lights dancing to the beat of club mix or live Chinese bands.
There are plenty of things to do in this ancient town. Get a taste of local street food (fried toufu, dumplings, walnut cake…), drink a pint of snow beer while listening to live Chinese bands or bargain for leather bags, handwoven pouches and scarves (remember: always counter with at least half the quoted price).
Ladies can get their hair braided for ¥10 or rent traditional ethnic costumes for ¥20. Better still, do it against the famous Black Dragon Pool(黑龙潭)about 15min walk from the central square of Lijiang Old Town.
The Black Dragon Pool was built in the Qing Dynasty. It looks like a typical Chinese painting of a white marble bridge across the lake, with the Elephant Mountain just behind the pagoda and Jade Dragon Snow Mountain in the distant background.
2. Watch local minorities sing and dance to Jade Dragon Snow Mountain (玉龙雪山) 

With such big names behind the show – Zhang Yimou as show director and the Jade Dragon Snow Mountain(玉龙雪山) as its natural stage backdrop – Lijiang Impressions Show(印象丽江)provides an experience unlike any other cultural performance. The production recruits from local minorities group to showcase the traditions and lifestyles of local Naxi, Yi and Bai people through song and dance including coordinated drum performances and dynamic horse riders galloping across the stage. Just one thing: it gets really hot so do prepare sunscreen and a scarf or jacket to cover up (caps are provided).
From the outdoor theatre, there are buses bringing visitors to the cable car station that goes up to the Jade Dragon Snow Mountain Glacier Park(冰川公园). I know, it sounds kinda touristy (especially for those who prefer to hike on foot) but if you're already at the foot of the mountain, why not? Other than the crowd, the snowy glacier is pretty amazing.
After coming down from the glacier park, take another shuttle bus to Blue Moon Valley(蓝月古). Beautiful turquoise waters set against snowcapped mountains await, but also be forewarned: the place gets rather touristy as you progress further down the three lakes.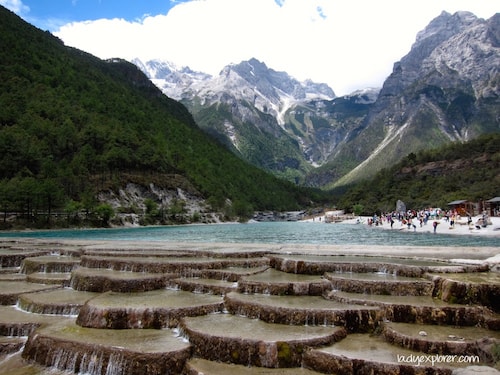 Tip: the lake is bluest and least crowded right at the top. If you want to escape jostling with tourists and enjoy a clear view, walk upwards a little and climb abit of the rocks 🙂
3. Hike through the stunning Tiger Leaping Gorge(虎跳峡)along Yangtze River(长江)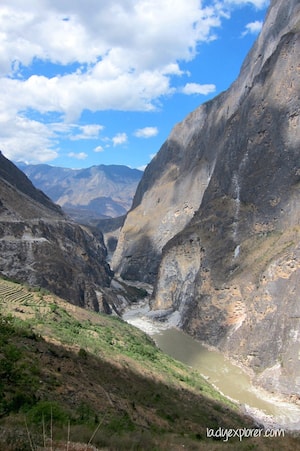 One of the deepest canyons ever and top 10 hiking trails in the world, the Tiger Leaping Gorge(虎跳峡)high trail can be completed over 2 days. It promises stunning views of snowcapped Jade Dragon Snow Mountain, rocky cliffs, stepped terraces and roaring waters of Yangtze River, world's third longest (other two are Nile and Amazon). Not convinced? Here are some gorgeous (pun unintended) photos of our journey:
There're also a few guesthouses along the way. We stayed at Halfway Guesthouse which offered beautiful mountain views from their rooftop, delicious steamboat meals and decent enough rooms.
Tiger Leaping Gorge earned its name from a Chinese myth about a tiger that escaped hunters by leaping over the narrowest point, through a rock in the middle of the river. The bravest souls can access it at the bottom of the gorge, right beside the river. We descended from Walnut Garden on our second day.
And then it's a super steep climb back up.
4. Understand the different local traditions and cultures
Located at the edge of Yunnan's northern border, Shangri-la is at the confluence of Tibet, Yunnan and Sichuan provinces. As recent as 1950, Shangri-la (then named Zhongdian) was still within Tibet's borders. Today, the area remains a melting pot of different ethnic groups such as the Naxi, Tibetan and Hui people living in harmony.
Naxi Homestay at Nan Yao Village
We spent a night at a traditional Naxi home in Nan Yao Village, near Lashi Lake. The Naxi (or Nakhi) are an ethnic group native to Lijiang, living around the foothills of Himalayas in northwestern Yunnan Province. Its is a blend of both Han Chinese history and Tibetan culture.
Tibetan Home in Shangri-La
Here's how a typical Tibetan home looks like in Shangri-la:
Haba Village
Haba village is a harmonious mix of minorities living together, including Naxi, Hui, Yi peoples and Tibetans. We went to a Muslim Hui village (top left area, towards the mountain).
5. Climb Haba Snow Mountain
No, I haven't climbed this snowcapped beauty yet (except for walking on the flank of Haba Snow Mountain at Tiger Leaping Gorge). At 5,396m tall, the summit can be conquered over 3D2N, requiring the use of ice-axes and crampons.
I think that's enough reason for me to come back. Who's up? 🙂
6. Visit the "natural paddy fields created by the fairies"

The White Water Terraces(白水台)is a natural limestone terrace at the foot of Haba Snow Mountain. It is formed over hundreds of thousands of years, through running spring water from the Haba glaciers that leave behind calcium sediment, gradually forming a layer of white deposits of calcium carbonate crystallised in spring water.
7. Admire grazing yaks at Pudacuo National Park (普大措国家公园)

Pudacuo National Park(普大措国家公园)is China's first National Park to meet International Union for Conservation of Nature standards. The park has an internal bus that shuttles visitors between their two huge lakes – Shudu Lake and Bita Lake. There are yaks, cows, horses and sheep grazing across the entire park.
Of coz, we felt a teeny weeny bit guilty for eating dried yak meat and drink yak butter tea (just like the Tibetans do) after that.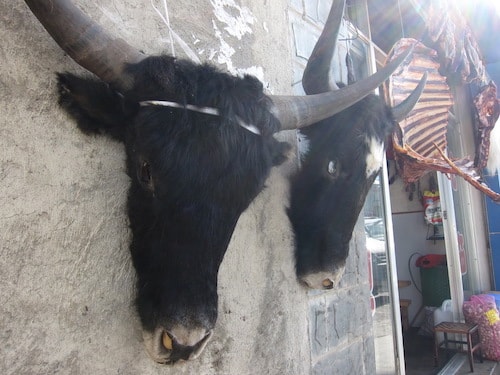 8. Get blessed at Yunnan's biggest Tibetan Temple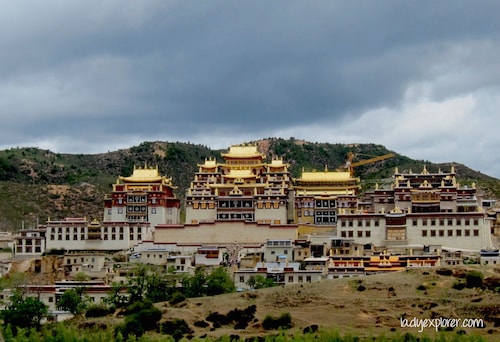 Songzanlin Monastery(松赞林寺)is the largest Tibetan Monastery in Yunnan, built during the Qing Dynasty and established by the Fifth Dalai Lama in 1679. It was extensively damaged when the People's Liberation Army of China bombed the monastery during their invasion of Tibet in the Cultural Revolution. Today, it has been largely restored and maintains an air of grandeur to anyone who ascends its steps though the walled palace.
Inside, you can offer a prayer to the different Buddhas within the monastery. It is customary to walk clockwise within the temple. Donate any amount and you will receive buddhist prayer beads (worn round the wrists) as well as a light knock on the head, a form of blessing by the Tibetan monk.
Spin the Tibetan prayer wheel for good luck. Prayer wheels are metal cylinders with mantras written in Sanskrit on the outside of the wheel. According to the Tibetan Buddhist tradition, each revolution brings as much good merit as chanting the inscription aloud.
9. Fly budget direct from Singapore (with Tigerair)
For the longest time, it was extremely troublesome to get to Lijiang/Shangri-la (involving multiple transfers). Now that there's a direct flight and it's budget, there's no reason why not to. A two-way ticket can cost about $420 all in. What are you waiting for?
Best time to visit: May-Nov
Direct flight: Tigerair
(Domestic flights also available via Guangzhou, Chengdu, Hong Kong)
Comments
comments