8 Life Lessons from Mount Rinjani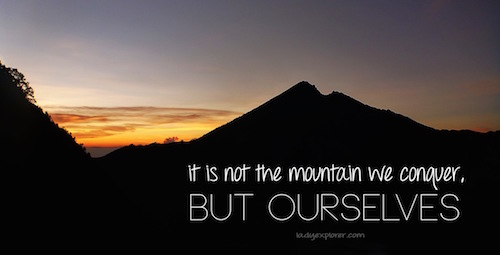 To be honest, we hadn't put much thought into it. We had booked our tickets to Lombok because there was this 1-for-1 sale. At that time, we vaguely recalled reading about a gorgeous volcano on the island, one named Mt Rinjani and thought, why not?
—
Fast forward – we are in the car from Lombok International Airport. Just last night, I was in office, setting my Out of Office auto-reply and suddenly here I am, looking out the window at huge paddy fields, grazing cattle and village homes. This feels surreal. Standing tall at 3,726m, Mt Rinjani's peak is shrouded in clouds, exuding an air of mystery, almost pomposity. What the hell were we thinking?
In the end, we did make it to the top. But as mountaineer Sir Edmund Hillary aptly puts it: it's not the mountain we conquer but ourselves. It may feel absolutely out of this world, but really there isn't much difference between climbing a mountain and living life itself. Here are 8 takeaways from Mt Rinjani that are relevant to everyday life – if you have hiked before you can probably relate:
1. It's never about luck
Climbing a mountain is tough work. You don't hear people at the summit saying "Oh, I just happened to be around and this was on the way". Nobody reaches by chance. They set their mind on a goal, brave the winds and fight gravity towards it. More often than not, the ones who actually do achieve it are those who came prepared. They put in hours of training. They research a little bit on their terrain. And they are well-equipped.
In life, luck comes to those prepared. If you want to enjoy the amazing view and sense of achievement standing at the top of the world, be prepared to sweat. Stop dreaming about striking the lottery, there's no easy way out. Identify your goals, start making plans and act on them. Dreams don't work unless you do.
2. Know where you are heading
However, it's not just about putting your best foot forward. No matter how hard you keep trying, you need to be in the right direction first. If not, all efforts will just be futile or worse, counterproductive. Don't be afraid to get help too – ask along the way, or better still find a good guide who can point you in the right path.
Cliché as it sounds, work hard but work smarter. Before you charge on, stop and ask yourself, is this what I really want? It will save you a whole lot of time, effort and regret later on.
3. Some things are just not in our control
While you can be the most prepared, you cannot predict nature. Sometimes the only thing you can control, is the way you react. The elements may or may not be in your favour, but at least if there is a thunderstorm, you have your poncho ready and an extra pair of dry socks.
And even if you're drenched, so what? The happiest are those who learn how to dance in the rain.
4. Surround yourself with the right people
The first thing that comes to mind when I recall a hike is hardly the summit. It is about the entire experience and the people whom I went with. The journey always matters more than the destination, so choose the right people to embark with you on any adventure.
When times are hard, you will need positive energy. Encouragement. Lots of fun. And a great sense of humour.
5. Live in the moment
It's funny how we've become so used to whipping out our smart phones every living, idle moment. When we're waiting. When we're getting from one place to another. When the conversation runs dry and it gets awkward. Thankfully, there was no WiFi in the mountains yet so I was freed from all temptation to check my iPhone each time I had a spare minute. Instead, I'd look out for fleeting butterflies, give the people around me my fullest attention, or simply drink the wild air.
Sometimes, we need to disconnect to connect with our surroundings and truly live in the moment.
6. Persevere…
Even when you feel like giving up, keep going. It doesn't matter how fast you get there, but whether you do. Nobody actually wants to know how long you took to reach the pinnacle, but as long as you eventually do, you have earned your due respect.
Founder of the hiking company we went with, Rudy from RudyTrekker, shared with us that he had started out as a porter at Mt Rinjani for 14 years. After learning English, he became a guide and then ultimately running his own business today that comprises of over 100 porters and guides.
When we expressed our admiration, he replied: Success takes long process, nothing instant. 
7. … It will be worth it
Of course there are moments when we wonder to ourselves, why are we even doing this? It's easy to simply throw in the towel and back out, but persevere, because it will be worth it. When we reached the summit, any hint of doubt was instantaneously vanquished by the overwhelming sense of achievement by standing on top of the world, watching the sun rise over a sea of clouds.
Victory is sweet. Nothing beats setting a goal and overcoming all odds to attain it.
8. It's not the end
Even with the success of RudyTrekker, Rudy didn't just end there and rest on his laurels. When we were at Lombok, he was already in the midst of building his own hotel.
Don't stop dreaming just because you have achieved your goal. Life is meant to have ups and downs. There are plenty of mountains to climb out there. When's your next one?
Read about our Mt Rinjani hike
Comments
comments