Mount Rinjani
At 3,726m, Mt Rinjani is Indonesia's second highest volcano and often deemed the most beautiful of all. But it is not an easy hike. Stretching over 3-4 days, it's a tough yet rewarding journey that takes you through rolling hills, starry skies, waterfalls and a stunning crater lake at the top that sits another miniature volcano within.
There are several options to climb Mt Rinjani. You can choose to start from Sembalun Village and hit the summit first before 'relaxing' later, or vice versa (starting from Senaru Village instead). We chose the former, trekking over 4D3N in order to have more time at the hot springs / swimming in the lake.
Our itinerary…
Day 0: Arrive Lombok, overnight in Pondok Senaru Chalet
Day 1: Start at Sembalun, camp at Sembalun Crater Rim
Day 2: Summit attack (3am), head down to camp by Crater Lake
Day 3: Chill at lake/hot springs before going up to Senaru Crater Rim for sunset and overnight
Day 4: Descend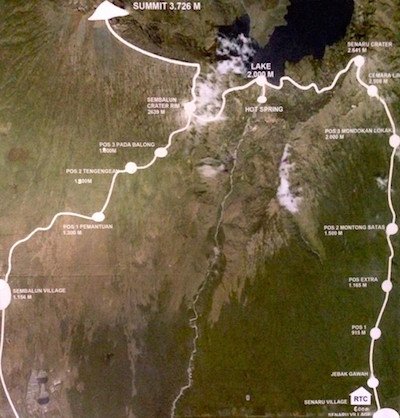 With 7-8hrs of hiking on Day 1, a good night's sleep is essential. Thankfully, we had a cozy hotel in store for us. After 3.5 hrs drive from the airport, we arrived at Pondok Senaru.
The next morning, we were greeted with fresh mountain air and a clear (but daunting) view of the majestic Mt Rinjani, waiting to be conquered.
After a hearty breakfast (and about 45min drive), we arrived at our start point – Sembalun Village!
The first part of the hike was an easy and enjoyable one, walking through gentle slopes through the savannah grasslands. Definitely deceiving of what's ahead to come.
Just watch out for cow dung littered along the way… And the occasional cow that crosses your path.
Before we knew it, it was time for lunch at POS II! All of a sudden, the area was teeming with life as different trek groups lay their mats, while porters chopped vegetables, set fire and whipped out frying woks.
Our lunch was so good, we felt almost embarrassed comparing to other trek groups. Firstly, our porters had set up 4 picnic chairs for us to sit on while everyone else sat on the ground. Then, hot tea was served in tin cups, followed by a full-blown 3-course meal with salad, mains and fruits. No kidding; we were served white rice with fried chicken and sunny side up – even garnished with a delicately sliced tomato in the shape of a flower!
Anyway, it's good we loaded up on calories. After POS II, the hike starts to get steeper…
…and even steeper from POS III onwards (at 45-50 degrees upwards)
Imagine our relief when we (finally) arrived at our base camp on Sembalun Crater Rim.
By that time, our efficient porters had already set up our tents and their makeshift kitchen to whip up a sumptuous dinner.
We had goreng pisang to whet our appetite before curry with rice was served. Surely a yummy way to load up before our summit attack at 3am tomorrow!
Note: Don't forget your headlamps! It's pitch black after the sun goes down. Headlamps, and our hiking poles, are two unlikely essentials which can make or break your trip.
And so…. it was an early night in preparation for our summit attack at 3am next morning!
Summit Attack
This is the hardest part of the trip. It's dark, cold and very very steep. Layers I put on: thermals, t-shirt, fleece, windbreaker and leather gloves.
With higher altitude, the terrain transforms dramatically. All of a sudden, we find ourselves trudging upwards in loose sand, sliding down with each attempt to move forward. The only thing to be seen at first are tiny dots of light (other headlamps), lining our path ahead. And then slowly, the sky lights up and we make out the faint silhouette of the peak.
Halfway through, a sliver of orange appears across the horizon. We stop in our tracks and watch the sun rise above the sea of clouds. On our right, the crater lake comes to life. The sun casts an orange hue over the landscape and the shadow of Mt Rinjani's peak onto the sky.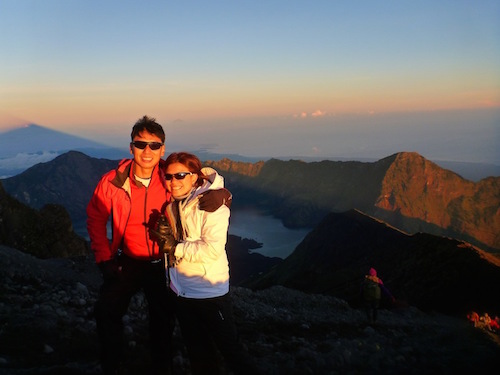 When we had enough of the sunrise (and breather), we continue to make our way up – sun in the sky and summit in sight.
The peak looked deceivingly near but we took almost an hr more to conquer the steep, sandy terrain to the top.
Of course…. we made it!
Oh, that euphoric feeling of standing on top of the world! Nothing beats standing right at the edge, looking far and wide, wind in your face.
I'm glad we never gave up. This is what makes the climb worthwhile 🙂
And this was only the beginning… We had 3 more days of adventure ahead. It was time to descend; the gorgeous lake awaits.
Next: Segara Anak, Child of the Sea (Rinjani crater lake)
Comments
comments