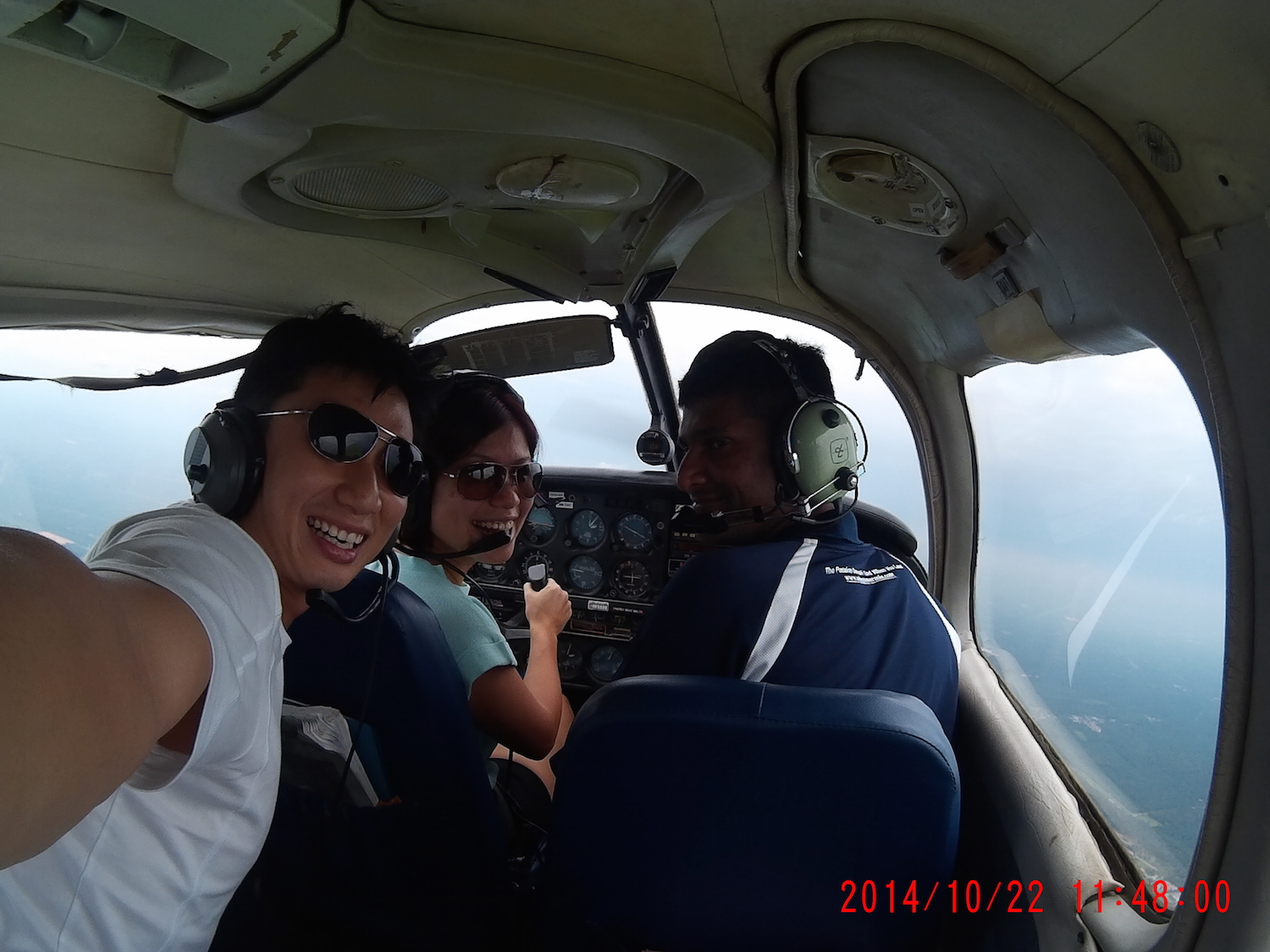 Flying a plane at Senai Airport, Johor Bahru
Since this year's Deepavali was a day before my birthday (and right smack in the middle of the week), KT decided to make the best of our precious P.H. with a day trip. For a completely novel experience.
Initially, I had proposed to visit the National Orchid Garden or Flight Experience Flight Simulator. Afterall, these are Tripadvisor's top things to do in Singapore that we (ashamedly) haven't tried. When he said "Why not fly a real plane in Johor instead?", I went ballistic with excitement.
It was a 1-hr trial introductory flight with Elite Flying Club. Our take-off point? Senai International Airport.
The entire experience was an eye-opener. Our instructor, Captain Saleeh, started by showing us how to conduct a pre-flight inspection – whether the wings are operating smoothly, the fuel is enough etc. Then we climbed into the aircraft where Saleeh briefly went through the controls. Basically, it was pull to ascend, push to descend – and left or right.
One of the most fascinating parts was taxi-ing the aircraft to the runway. We had to put on our headsets and listen to Saleeh communicate with the air-traffic controllers, as he spoke in half-English, half-Malay for an allocated lot.
"16-Bravo" was the reply.
"Preparing for take-off", Saleeh announced before we picked up speed.
"Pull," He turned to me and said.
"Yes, now!"
And we were up once I pulled the controls hard.


Halfway through, me and KT swop seats (yup, with the plane moving in the air!)
We were now in his hands to turn back and land safely.
The landing was quite smooth and once again, we were intrigued by the communications that went between Saleeh and the air traffic controller. We were even told to look out for an Airbus in the skies nearby – an Airasia jet which went on to land before us.
All in all, definitely worth the trip especially for someone whose never stepped into a cockpit before 🙂
Here's a short trailer of the whole experience:
Who we went with
Elite Flying Club

Cargo Complex
Senai Int'l Airport
81250 Johor
Malaysia
What course
Trial Introductory Flight (RM670/hr for two pax)
How to get there (if you don't drive):
(1) Shuttle bus from JB Sentral (RM8, leaves every 10th minute hourly) – the bus arrives/departs at the commercial part of Senai International Airport so you gotta walk abit or hitchhike (it was fairly easy to stop for a short ride)
or
(2) Taxi from JB Sentral (RM50)
Comments
comments