Blue fires at Ijen Crater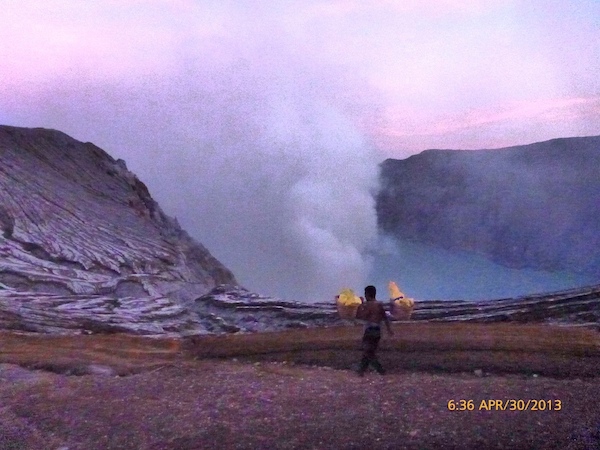 Each day, hundreds of sulphur miners brave the toxic sulphuric fumes and steep descent down into Ijen Crater to carry solid sulphur off the mountain. They carry about 80-90kg worth of sulphur a trip (max twice a day) which can fetch RP700/kg. That makes up to about USD10 for a day of perilous, back-breaking work.
Surabaya, East Java Part II (29 April – 1 May 2013)
Day 3: Leave from Cemoro Lawang to Sempol, Mini waterfalls
Day 4: Ijen Crater, Coffee Plantations, Night bus from Probolinggo
We were fortunate to chance upon TOTO Tour & Travel at Probolinggo bus station before making our way up to Mount Bromo (we had arrived at Surabaya with no prior arrangements and there are no direct routes to the faraway Ijen). From there, the ladyboss Inda made arrangements for Toto to pick us right at our doorstep at Ceromo Lawang. Our tour of Rp2,000,000/4pax included private transport from Probolinggo to Ijen Crater and back, Hotel + Breakfast at Catimor Homestay and Overnight Executive Bus from Probolinggo to Yogyakarta.
The journey from Probolinggo to Sempol was a painful 7 hours ride, but the ultimate experience of hiking up and into the crater was so unlike any other that it more than made up for it. Few more things along the way that made it worthwhile – driving along the coast, stopping for a sumptuous seafood lunch, coffee plantations, a mini waterfall and of course, great company.
Our accommodation for the night was Catimor Homestay at Sempol. I thought it was decent enough, but we heard some complains from spoilt fellow tourists on its shabbiness. Anyway, we didn't spend much time there as we decided on a night tour to see the blue fire of Ijen Crater. Burning sulphur emits a blue flame and this can be observed at night inside the crater. Sounds unheard of? That's what we thought, but took the risk of paying Rp100,000/pax for the night tour. And I'm damn glad we did.
The steep descend into the crater may be exciting and the blue fire mesmerizing, but this is tough work for the sulphur miners every day. As we crossed paths, the miners put us to utter shame – we were already panting without carrying any weight on our shoulders. The boys had tried to lift the 90kg worth of sulphur slabs but could barely sustain for a second.
Pak Mol, our 25-year-miner-turned-guide shared with us that each trip earns them a couple of dollars and they can do max 2 trips per day. Many of them have deformed shoulders because of the prolonged carrying of sulphur slabs, as well as respiratory problems from the sulphuric fumes. I guess this is why many of them, like Pak Mol, turned to tourism. It is not uncommon to see a miner approach for a photo before asking for money, or makeshift stalls along the trail with a resting miner selling his delicately carved sulphur sculptures.
Featured on BBC Earth's World's Most Dangerous Job, here's a short clip that gives a glimpse into a day of the sulphur miners at Ijen Crater.
And so we returned to our homestay with a few sulphur bars in our bags and a whole lot of new perspectives, ready for our next leg of the trip.
Next: Overnight bus to Yogyakarta – Cultural City of Indonesia

Comments
comments