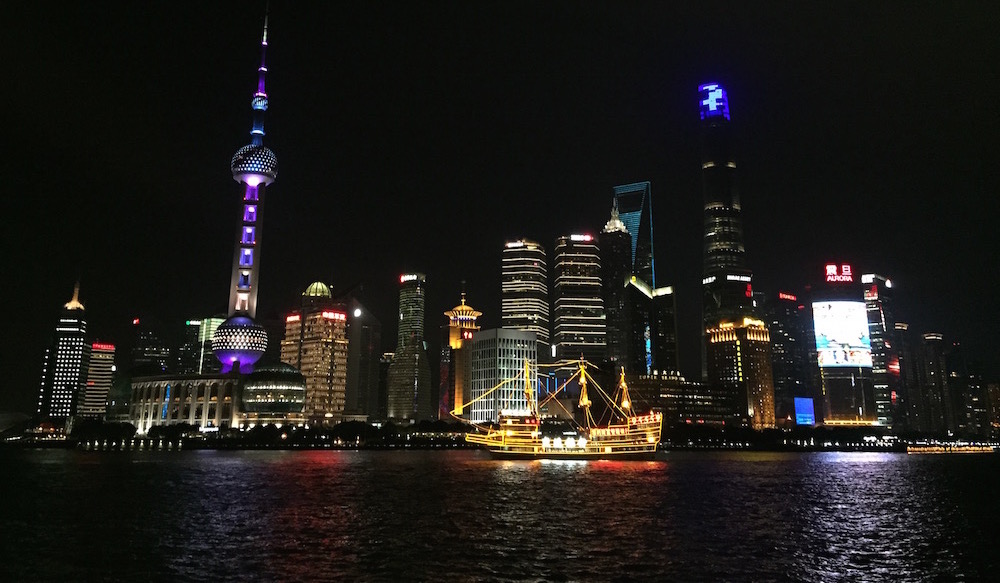 5 things about Shanghai that surprised me
Shanghai isn't exactly the typical holiday destination I'd plan for. So when KT went there for work last month, I was semi-enthusiastic about joining. But I was hungry for a short break – from work and the never-ending to-dos of our new home – coupled with KT's free hotel and some unredeemed travel vouchers.
For these reasons not related to the city, I flew to Shanghai with no expectations. In return, this surprisingly charming metropolis had a lot to offer.
1. Plenty of free art spaces

I had been looking forward to Tian Zi Fang. This place was a recurrent recommendation from friends who've been to Shanghai. And true enough, I loved the quirky neighbourhood with its narrow alleys of hippy cafes and artistic studios.
But even before reaching Tian Zi Fang, I had my fair share of art appreciation. While passing through Jing An park, I stumbled onto a public photography gallery. Living Yangtze showcases the works of Eric Valli, while he was living along the Yangtze River for 6 months. It's a glimpse into the simple lives of local villagers along the great river – flowing through the same China, yet bearing such stark contrasts.
Another place I discovered by chance was the Camera History Museum, again free for anyone who happens to be walking on the streets of the Former French Concession. These indie spaces contribute to Shanghai's budding creative scene and definitely add colour to anyone's stay in the city.
2. Rooftops and secret bars
Life further down the Huangpu river in Shanghai is a far cry from the Yangtze. Here lies The Bund, Shanghai's glamorous waterfront with its iconic skyline. Neoclassical buildings of different architectural styles line the river bank and among them are plenty of rooftop bars. Sip a glass of wine here as you take in the dazzling lights of modern skyscrapers in the Lujiazhui financial district across the river.
For a different but equally impressive view, take the underground metro to Lujiazhui and chill out right beside the Oriental Pearl TV Tower at Flair Rooftop.
Shanghai is also full of quirky, thematic restaurants. One of my favourite dining experiences was at People 7 Restaurant, or Ying Qi Ren Jian, in the Former French Concession. Fusion food is served in a dim restaurant overlooking a bamboo garden. The fun starts even before your meal – once you manage to find its unassuming entrance (there isn't any sign), a passcode is needed before its automatic gate slides open. The passcode changes everyday and can be obtained upon reservation via the phone or Chinese food app Dianping (大众点评). And oh – I shall not spoil the surprise – just remember to visit the washrooms!
3. Super advanced m-commerce and mobile payments landscape
Another thing that struck me was China's digital payments scene. We're all familiar with our WhatsApp, GrabTaxi and HungryGoWhere. For each of them, China has her own to match up – and outdo. When we had dinner at the gimmicky People 7 restaurant, reservation was made with the Dianping app. The bill was then paid through the same app – you could choose to do so via Alipay or WeChat pay – because, who wouldn't for a 10% discount and free cocktail?
If you need to split the tab, just send the money over on WeChat. Once done with dinner, it's time to whip out the Didi app for a cab. Again, paying through the app is effortless and lets you to earn rewards on its loyalty program.
This seamless payment experience is also moving from online and mobile apps to offline merchants. By letting customers scan bar codes using Alipay's smartphone app, China seems to have cracked the code on mobile payments. No need to wait for the critical mass to own NFC-enabled hardware or worry about OS compatibility issues. It's as simple as generating a barcode on any smartphone screen so that merchants can scan before payments go through.
Instead of the usual Visa/Mastercard Accepted, there are signs that promote Alipay everywhere. Chinese consumers are generating bar codes on their smartphone to pay for fast-food at KFC or for groceries at Walmart and Carrefour. It's one thing to read about the phenomenon online, but another to see and hear locals talk about how easy and ubiquitous it has become.
And it doesn't stop at payments. Yu'eBao allows Alipay users to deposit cash and earn much higher interest yields than banks. Then there is Sesame Credit – a credit bureau of sorts that leverages big data from Alibaba's platforms and partners to generate credit ratings of consumers and small businesses.
4. Shanghai Marriage Market
As modern Shanghai impresses with it's glitzy rooftop bars and forward payment technologies, it's baffling that parents of unmarried Shanghainese (usually in their late 20s – early 30s) still flock to the marriage market at People's Park every weekend.
It was purely by chance that we came across this strange bazaar. Shortly after exiting People's Square metro station (on-route to Shanghai museum), we walked into a bustling crowd amongst rows of colourful umbrellas. At first glance, this seems like any flea market in a park. Upon a closer look, you will realise that the umbrellas are not for sale. Rather, they are used to prop up paper advertisements for match-making candidates – indicating their age, height, weight, education and whether they own their own homes.
If two parents – or agents – find a good match here, a blind date is set up and the rest is left to the couple.
5. Shanghai Maglev Train
Did you know that the world's fastest train is in Shanghai? The Shanghai Maglev Train uses magnetic levitation to move without touching the ground, reducing friction and allowing super high speeds. With a top speed of 430km/h, it is currently the fastest commercial train in operation.
The experience on the Shanghai Maglev Train is shorter than expected though. It runs daily from Pudong International Airport to Longyang Road metro station (another 20min by metro to the city centre) and the journey takes just 7-8 minutes.
It's viewed more as a gimmick for tourists than anything else. But a one-way ticket costs just ¥40 if you have any proof of purchase for a flight ticket – not too expensive for a quicker alternative to the airport and simply having ridden the world's fastest train.
In the end, I'm glad I decided to visit Shanghai, an atypical holiday destination for me. It's been awhile since I wandered alone in a foreign city (mostly, as KT was at work). Take my time to study the complicated metro map while locals buzz by. Marvel at how the Shanghainese naturally whip out their smartphones to pay. Be intrigued by how the city balances its old and new traditions with ease. It's a good reminder to always remain curious and awed by the littlest things, things that everyone who's been around for the longest time, tends to take for granted.
Comments
comments