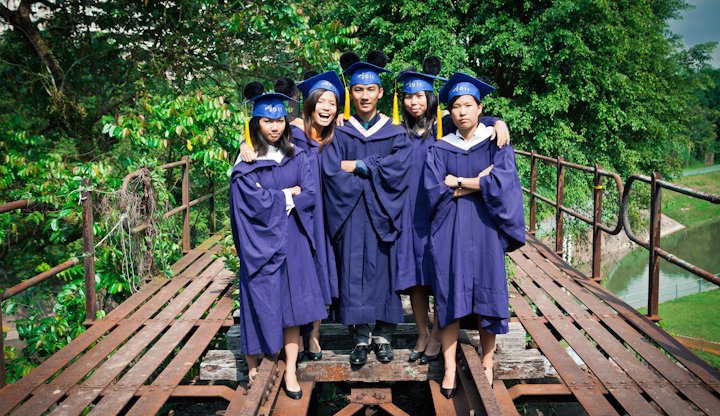 How to Enjoy Grad Trip on a Shoe-string Budget
Graduation. One of the best times in life. You're done with burning the midnight oil cramming endless definitions and formulae, but not yet entangled in the 9-to-5 rigidities of working world. Anyone at this stage should try the experience of a grad trip. As Ralph Waldo Emerson rightfully advised, go live in the sunshine, swim the sea and drink the wild air.  You're young, energetic and free. But chances are – you're also scraping your bank account with the leftovers of your pocket money and part-time tuition jobs back in school. Here's how to have an amazing grad trip even on a shoe-string budget:
1. Don't chuck your student card in the bin yet
You can shred all your lecture notes, but remember to keep your student card. It can save you a lot of money. Bring it along when you go overseas to enjoy student rates at restaurants, museums and national parks. It may be a good idea to get an International Student Identity Card (ISIC) which gives access to benefits and services all over the world. The card is the only internally accepted proof of student status and is useful when some places don't recognize your local university card. Plus, the ISIC is valid up to 13 months from the issued month so it's an opportunity to extend your privileged student status just a bit longer.
2. Stay up to date with the latest promos on airlines, hotel portals and deals sites
Most of the time, the bulk of your travelling expenses are spent on flight tickets, followed by accommodation. Both can be purchased at huge discounts – if you do it at the right time. Sign up for newsletters of travel portals and follow them on Facebook or Twitter to ensure you are always the first to know of any promotion.
One more tip: check out the group-buying sites of your country of visit (e.g. Groupon.com.au if you're going to Aussie) for packages like one-day wine tasting tours or wind-surfing crash course for a cheap and fun experience.
3. Look for alternative accommodations
What's even better than cheap hotels? Free ones. If you have friends or relatives with an extra room/bed, consider bunking in. It's a great opportunity to catch up on old times too. For the brave souls, try staying at a local's extra room or couch at Couchsurfing.org (for free) or AirBnB.com (for a small 'rent'). However, remember that it is not a hotel; keep an open-mind and do not expect 5-star service standards. It is only polite to interact with your hosts, treat them to a meal and find out the way of life from a local's perspective.

More of my unique couchsurfing experiences here.
4. Make wise dining decisions
The next most costly (and mandatory) item on your list would be dining. But it doesn't have to be expensive. This is especially true if you are travelling to a developing country. Sieve out authentic places where locals hang out, try affordable street food and make sure you avoid pseudo-posh restaurants targeted at tourists. For those going to a more expensive place like Europe, fret not. You can still save on food and have a good time. Visit the grocery store to buy a loaf of bread, fresh ham and cheese, even a bottle of wine. Savour these on a picnic mat in the nearest park and voila! – here is your affordable, yummy, local meal al fresco.
One more tip: you've already flown so many hours to arrive here – indulge in at least one restaurant in each visited city. Find a nice café with a reasonable set lunch or dinner menu and order a typical local dish. You should have had some savings from all that picnicking.
5. Find the best way to get from one place to another
With your flight, accommodation and food settled, the next thing to save on is getting from place to place after you arrive. Within the city, walk as much as possible – or rent a bicycle. Other than being the affordable option, it is a great way to see more things and get up close with local street life. If you need to travel further, find the most cost-effective option for public transport, such as unlimited day-passes or week-long metro cards, depending on your duration of stay. The Youth Eurail Pass (35% discount for travellers < 26 years old) is a good idea if you plan to travel across different European cities.  There are also plenty of budget flights for intercity travel within each region, such as EasyJet in Europe, JetBlue in US or TigerAir in Asia.
One more tip: for the more adventurous, you may even try to hitchhike from one place to another. The generally accepted hitchhiking gesture is to extend your arm out and stick out your thumb, hand closed. This is another way to save money and speak to locals – but always allow for some buffer. You may end up spending a lot of time waiting for your free ride with no luck.

6. Pack light to save on check-in fees
If you're travelling intercity on budget airlines, having a check-in baggage would mean more cost (approximately $30-$50) with each flight you take. Shed some weight along with the extra fees by packing only the necessities. Zip-lock your clothes, plan to do laundry at your destination and put on all your heavyweight shoes/jackets when you board flights.
7. Be alert and keep an eye on your belongings
No matter how much you scrimp and save, all efforts will be futile if you end up losing your valuables. Be on your guard if an overly friendly stranger suddenly approaches (but try not to overreact too as that poor guy may just be sincerely starting a conversation with you). Diversify your risk by placing money in different compartments – wallet, money belt, locked luggage etc. You could bring along a credit/debit card to minimize carrying wads of cash around and act as a back-up for any emergency. Remember to activate your magnetic strip and overseas ATM withdrawal before you embark on your trip!
One more tip: always prepare for the worst by getting covered with travel insurance. Anything can happen when you're in a foreign land. It's a small amount of money that protects you from a whole lot more of potential problems.
There's never been a better time like graduation to go on a self-discovering journey. What are you waiting for?
Comments
comments