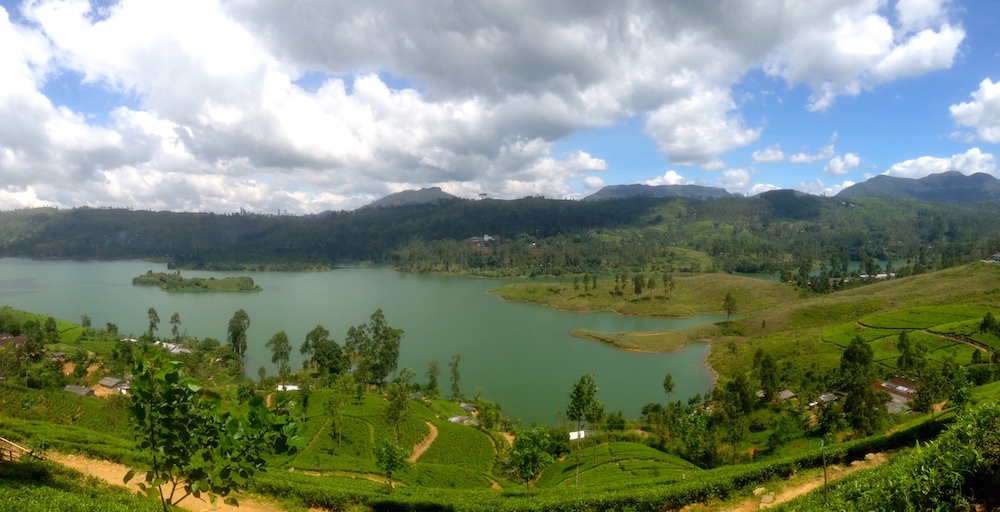 Through the hills of Sri Lanka
Due to its relatively small size and unique shape, Sri Lanka is often described as the teardrop of India – or more poetically, the pearl of the Indian Ocean. This often overlooked travel destination is blessed with beautiful beaches, rolling tea hills, waterfalls and an abundance of wildlife. But it was not until a few years ago that the country started to rebuild its tourism industry. After all, it had been plagued by a 30-year civil war between the majority Sinhalese and minority Tamils (yes, the same one we learnt about in social studies classes), which ended only in May 2009.
The recent tourism boom was apparent from our interactions with the locals. As four Chinese girls finding our way around, it was hard to blend in for obvious reasons. Yet the people were mostly genuine and friendly – there was barely any touting, plenty of kind souls to readily point us towards the right directions and kids who'd smile shyly at us as their parents egg them on to say hello in English. This was pretty refreshing to us – skeptical travellers battered by seasoned scammers in touristy SEA cities (like Bangkok or Siem Reap). We even joked about the inexperience of aspiring Sri Lankan tricksters, who would quote and then nervously re-quote a price double the original after whispering amongst themselves in their own language. I guess it's evident how tourism can gradually taint a country.

Balancing on a shoestring budget, another thing that shocked us were the outrageously hefty "tourist prices" of entrance fees in Sri Lanka, compared to its low costs of living as a developing country. Day 1 in Kandy city: we walked up excitedly to the Temple of the Tooth Relic of the Buddha. To our dismay, entrance fees were LKR1,000 (SGD10) for foreigners, half the price for South Asian (SAARC) members and 1/10 for locals. After they caught us trying to sneak in and directed us towards the ticket counter, we tried a second time to joke that we were from the SAARC (did we say Pakistanis?), which apparently did not amuse them.
Reluctant to pay for a worship, we ended up on a 15-min public bus ride to the Peradeniya Botanical Gardens. We peered at the signboard and saw to our horror – LKR1,100 (SGD11) for foreigners – even more expensive than the previous temple! The excessive overcharging was amplified by the local price of LKR50 (50 cents in SGD).
Finally, we sat down on a patch of grass right outside the gardens, admiring its bright red and yellow flowers through the metal gates. We were determined to have our perfect picnic, even if it meant attracting some curious onlookers.
Day 2: as advised by the local banker whom we exchanged monies with, we hopped on to a local express bus to Mackwoods Labookellie Tea Factory (towards Nuwara Eliya). It was fairly easy to get there – about 2hrs later, we were wandering freely through the tea plantations. When we got tired, we stopped by their teahouse for a cuppa' fresh tea, before going on a free tour around the factory which brought us through the different stages of tea making.
Day3: We finally got to try the famous Sri Lankan railway from Kandy-Hatton (although I thought the best view was from Hatton-Ohiya).

Our second-class cabins were decent, if not for the scarce number of seats. When a passenger finally stood up, we'd have three of us squeezing into it – one balancing her butt at the edge and another butt sitting on the lap. Acting like big kids, not unlike those across the aisle.
The children here seemed easily pleased enough. Peddlers would walk down the train aisles selling anything from salted peanuts to yoghurt to candy. When their mother bought one for the little girl, she would happily pluck each coloured candy off the metal foil, not forgetting to hand some to her eager siblings before popping the rest into her tiny mouth.
Our train ride from Hatton Railway Station to Dalhousie (where lies the foot of Adam's Peak) took 45min by car, but it was a scenic journey. We shared a driver with another two travellers and he stopped us over at a waterfall, an ancient church and a few vantage points before arriving at our guesthouse. And then it was time for an early rest for next morning's hike.
Next: 5,500 steps up Adam's Peak
Trip at a glance (Colombo-Kandy-Labookellie-Hatton)
(LKR1,000 = SGD1.00)
Airport transfer (Colombo-Kandy): LKR9,100
1Night at Renuka Inn/2pax: USD46
Local Breakfast/4pax: LKR500
Wine & Chips: LKR1,100
Bus to-from botanical gardens/4pax: LKR70 x2
Bus from Kandy-Labookellie/4pax: LKR220
Local Lunch/4pax: LKR960
Hotel Dinner with wine/4pax: LKR3,600
Tuktuk to railway station: LKR300
2nd Class Train from Kandy-Hatton: LKR70
Car from Hatton-Dalhousie: LKR1,600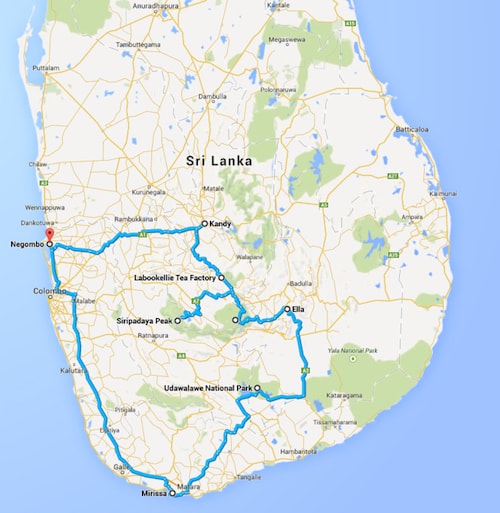 Comments
comments