Yarra Valley
After the past few days of coastal walks and mountain hikes, Yarra Valley was the perfect place to simply chill and indulge our taste buds, with its plentiful wineries and local produce farms. It's a scenic drive through the rolling vineyards and you can simply stop at any of the cellar doors for (free) wine-tasting.
Because the wineries are scattered around a huge area, it's better to pre-shortlist a few before heading down.
Here's where we passed by in Yarra Valley:
Fergusson Winery & Restaurant
82 Wills Rd, Yarra Glen VIC 3775, Australia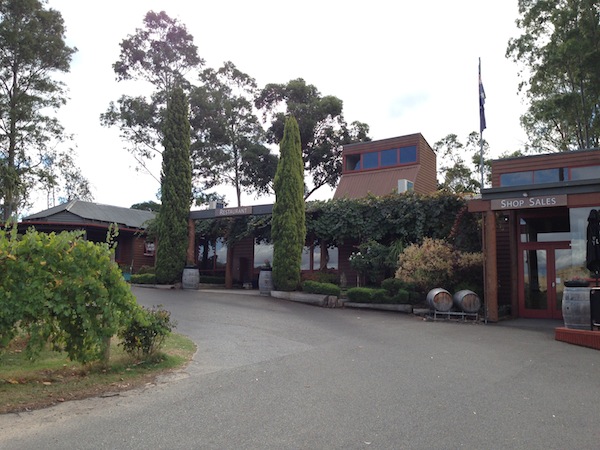 We were famished after 3.5hrs on the road from Grampians. Randomly chose one of the listed wineries in the official Yarra Valley guide and found ourselves in Fergusson Winery & Restaurant.
Lucky for us, it turned out a good bet. The restaurant has a rustic, wooden setting with a fireplace and we were seated at a table by the window, looking out to their vineyards.
Their friendly waitress took us through wine-tasting of their different house selections. We finally settled for a bottle of Shiraz, paired with our lunch sets serving generous portions of grilled kangaroo and beef pie, AU$80 in total.
I know, a little hypocritical considering how we squealed at the kangaroos' cuteness just the day before.
Yarra Valley Dairy
McMeikans Road, Melbourne, Victoria 3770, Australia
A relaxing, cafe-style shed with a lovely view of the mountains. The girl who served us was warm and knowledgeable when she explained the different cheese and wine types during our personal (and free) tasting sessions.
Purchased their cheese platter (AU$27) paired with a glass of Pinot Grigio (AU$7) and savoured slowly over a chat by the window.
Something to note: Yarra Valley Dairy closes at 5pm but they stop serving the cheese platter at 4pm (although you can still come for the free cheese-tasting after). Reason being they don't want guests to rush through something meant to be savoured slowly.
With our limited time, we were deciding between this and Yarra Valley Chocolaterie. In the end, it was cheese over chocolate for us 🙂
What would have been great stops which we passed by on our way to Yarra Valley Dairy:
Yarra Valley Chocolaterie & Ice Creamery
35 Old Healesville Rd, Yarra Glen, VIC 3775
Free chocolate tasting!!
Chateau Yerring
42 Melba Hwy, Yering VIC 3770, Australia
Wine-tasting in an atas, exquisite setting.
Next: Olinda, Dandenong Ranges
Comments
comments