Hiking Mount Fansipan
Fansipan is the highest peak in Vietnam, Laos and Cambodia, hence earning itself the romantic title 'Roof of IndoChina'. So when we went to Sapa this April, it topped our list of things to do (pun unintended haha).
In general, there is not much info online on self-exploring Fansipan and the villages around Sapa when this is very much possible. We booked a 2D1N up Fansipan via our hotel, since a guide is required for an overnight stay. If you are fit enough for a day hike, this can be done on your own, albeit super strenuous. Just arrange for a taxi to the entrance (14km from Sapa town) and pay the fee of VND150,000. Another option would be via Vietnam Nomad Trails, who offered a decent deal of US75/pax for 2D1N, when we walked into their shop in Sapa.
The most common way up is from Tram Ton Pass, through the same entrance as Thác Tình Yêu or Love Waterfall. The area was undergoing some upgrading construction works then, but there is a small sign that marks the start of Fansipan's hiking trail.
As with other mountains in Southeast Asia, the start is an uneventful hike – trudging on soil trails, stepping over gigantic tree roots and clambering up rock boulders through the dense jungle.

This goes on for two hours before we reach our first checkpoint for lunch, also where 3D2N hikers get to rest on their first night.
We continued into the jungle for another hour before emerging onto the spine of the lower hills, where we had to walk up and down the undulating path leading to our base camp. It was demoralising to ascend and descend repeatedly, but the unobstructed route also meant we had a first-class view of the surrounding mountains whilst at it.
Another 1.5hours and we arrived at our base camp!
We had kept our expectations low, so when our lodging came in the form of a hut – sleeping bags all laid out on clean, wooden planks – it was a pleasant surprise. We were all ready to sleep in pitched tents!
Since we had arrived early at base camp (about 3pm), there was ample time for rest before our summit attack. We decided to rise early the next day, setting off at 4.15am to catch the sunrise.

We raced our way to the summit wanting to catch the sunrise. Everywhere around was shrouded in clouds, but we knew we had arrived when we saw the distinct metal pyramid with 'Fansipan' engraved on it. We made it!
What an exhilarating moment it had been – just the three of us standing on the Roof of Indochina – KT, Minh (our guide) and I. At first it had been nothing but fog all around us, but thankfully the clouds cleared below us to unveil a gorgeous view of the undulating mountain ranges.
You know that nibbling doubt that always appears while climbing a mountain, the one that asks "why the hell am I doing this"? With a view like this, every bit of doubt clears away, along with the clouds.

Here's a map of our actual route, tracked on KT's Suunto: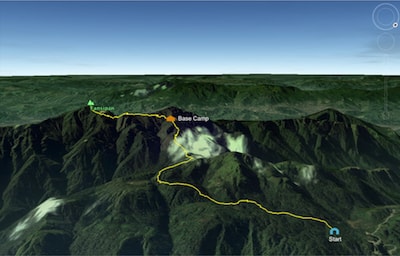 Tragically for fellow mountaineers, this beautiful peak is currently undergoing 'construction' of a cable car that will carry up to 2K passengers per hour from Sapa Town to Fansipan peak, slated to open by end of 2015. We found out about this – to our horror – only a few days after our hike, when we chatted up two Chinese workers over lunch in Lao Chai village. They had come from Zhejiang, taking a train down from Kunming to seek better working opportunities across the border. As of April 2015, they are still transporting the necessary building materials up and construction hasn't even begun, so we shall see if it opens as planned this year. Meanwhile, if you have any intentions of scaling Fansipan peak, do it soon! Before the crowds come in and this beautiful nature site becomes yet another attraction filled with tourists 🙁
Raring to conquer Fansipan already? Here's how you can get to Sapa from Hanoi.
And here's where I stayed in Sapa town (highly recommended!):
Comments
comments